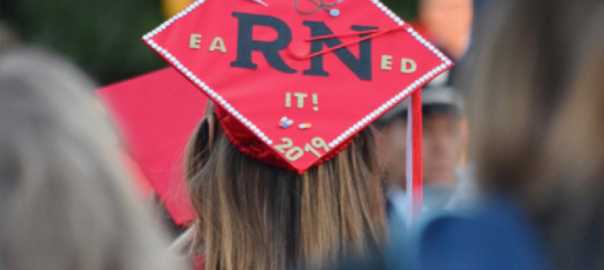 The SAT Essay 2022-2023: What to Expect
Last updated: March 2022
How to write the SAT essay:
Read the prompt to understand the task.
Read the sample passage, underlining the examples and evidence.
Come up with a thesis statement.
Outline your SAT essay.
Write a draft.
Edit it: check arguments and evidence, make sure there's a logic in the essay.
Proofread your SAT essay: check grammar, spelling, sentence structure, etc.
Good news for those afraid of SAT essays:
This section is optional now. It means they won't require you to write the SAT essay this year.
Bad news:

Many colleges still recommend it to see your writing and critical thinking skills.
What are those colleges that require SAT essays? How long is the SAT with essays? How to write it? And what is the SAT essay, after all?
Keep on reading to find out all the details, and get ready to earn the highest score for your essay this year.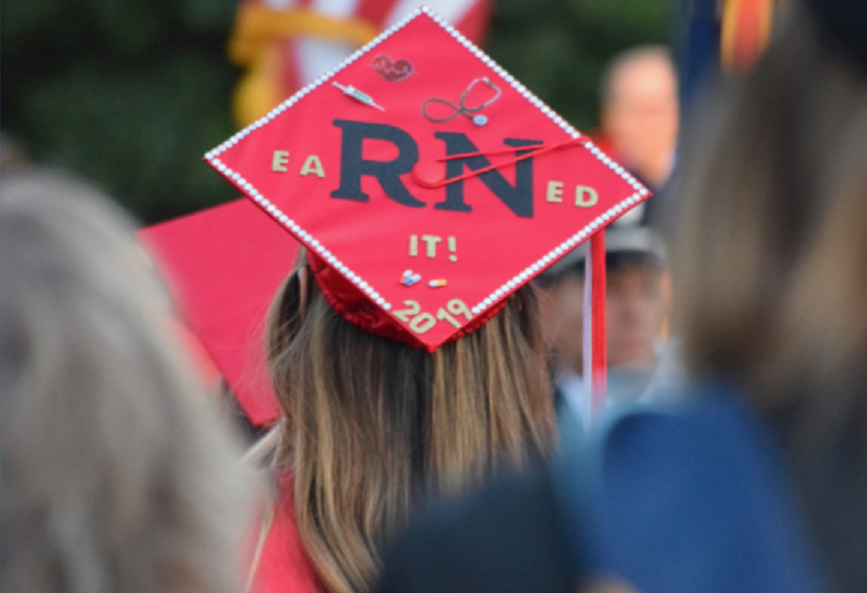 Source: Unsplash
That's what you'll learn in this guide:
What is the SAT?
The SAT (Standard Aptitude Test) is an entrance exam in most US colleges and universities. It's a multiple-choice test allowing admission officers to make a decision if you're the right applicant to become their student.
Invented by Carl Brigham in 1923, the SAT is owned and developed by College Board. It's a not-for-profit organization in the USA, with over 6,000 schools, colleges, and universities being its members.
SAT Purpose
The purpose of the SAT is to measure your readiness for college. It's focused on the knowledge and skills you've got in high school, and it provides colleges with one common score to compare all applicants.
College admission officers review the SAT score alongside with your other achievements such as:
Your high school GPA.
The admission interview.
Your personal essay.
Letters of recommendation from your teachers.
The classes you took in school.
Your extracurricular activities.
The higher your final score, the more options you'll have for admission.
SAT Organization
The SAT includes three mandatory parts: Reading, Writing, and Math. As per 2016, an SAT essay is optional for applicants to take, though many colleges still require it.
You'll have three hours to complete your SAT (without the essay). If you write the essay, you'll have 3 hours 50 minutes to finish the whole test.
Component
Time (min.)
Number of Tasks/Questions
Reading
65
52
Writing/Language
35
44
Math
80
58
Essay (if taken)
50
1
Total
180
(230 with essay)
154
(155 with essay)
To succeed with the test, you should complete its all sections. If you leave some questions unanswered, your scores will be canceled.
SAT Scores
The total you can get for your SAT is on a scale of 400–1600, with 200–800 for each of two sections: Reading and Writing + Math.
Sounds difficult?
Okay, here's a kinda SAT score calculator for you:
SAT score
Details
Score range
Two section:
200-800
Three tests:

Reading
Writing/Language
Math

10-40
Essay scores (if taken):
2-8
Total
For 2 main sections
400-1600
If you write an SAT essay, you can get an extra 2–8 points for each of three criteria. What are these criteria, and what is a good essay score?
Two graders from College Board score each SAT essay on a scale of 1-4 across three criteria:
Reading: it should be clear from your essay that you've understood the material. So, cover its main points and show how they interrelate.
Analysis: an essay should include persuasive claims about the text's main points. So, evaluate them and provide supporting evidence for its claims.
Writing: an essay should be structured well. So, present your arguments logically, vary sentence structure, state a thesis, and avoid grammar/spelling mistakes.
Summed together from two graders, your SAT essay score can range between 2 and 8 for each criterion.
| | | | |
| --- | --- | --- | --- |
| 3 SAT essay criteria: | Reading | Analysis | Writing |
| Grader 1 | 1-4 points | 1-4 points | 1-4 points |
| Grader 2 | 1-4 points | 1-4 points | 1-4 points |
| Total: | 2-8 points | 2-8 points | 2-8 points |
In 2018, the average SAT essay score was 5 out of 8 for Reading, 4 out of 8 for Analysis, and 5 out of 8 for Writing. (Source)
As you see, the analysis was the most challenging part for students. That's because it differs from what you do in standard essays:
In high school, you mostly write persuasive essays to give your personal opinion on the topic. In the SAT essay, they ask you to analyze the author's opinion. It's more like writing an expository essay. And although the structure of SAT essays doesn't differ from that of a standard essay, it may be difficult for you to logically link the arguments and evidence of another person in a new paper.
SAT Dates in 2022-2023
As a rule, the SAT takes place on the first Saturday of November, December, May, and June. Other dates include late January, March or April, and late August or October.
In other words, you can take the exam almost every month. Just make sure you are ready and don't miss a registration deadline for your chosen data.
Here are the SAT dates for 2022-2023:
| | | | |
| --- | --- | --- | --- |
| SAT date | Registration deadline | Late registration deadline | Scores release date |
| May 7, 2022 | April 8, 2022 | April 26, 2022 | May 20, 2022 |
| June 4, 2022 | May 5, 2022 | May 25, 2022 | July 13, 2022 |
| August 27, 2022 | July 30, 2022 | August 13, 2022 | September 9, 2022 |
| October 1, 2022 | September 3, 2022 | September 17, 2022 | October 14, 2022 |
| November 5, 2022 | October 8, 2022 | October 22, 2022 | November 18, 2022 |
| December 3, 2022 | November 5, 2022 | November 19, 2022 | December 16, 2022 |
| March 11, 2023 | February 11, 2023 | February 25, 2023 | March 24, 2023 |
| May 6, 2023 | April 8, 2023 | April 22, 2023 | May 19, 2023 |
| June 3, 2023 | May 6, 2023 | May 20, 2023 | June 16, 2023 |
The SAT Essay: to Take or Not to Take?
As you've read already, an SAT essay is optional now. However, there are many colleges and universities in the USA that still require it from applicants. So, if you decide not to write the SAT essay, you won't be able to apply to these schools.
Later in this article, you'll find the list of colleges that require the SAT essay. Make sure yours is not there; otherwise, you'll have to write an essay. If you are still unsure of what college to apply, writing the essay would come in handy anyway.
The SAT with essay costs $57 as opposed to the $45 for the SAT without an essay section.
Pros and cons of taking the SAT essay:
| | |
| --- | --- |
| PROS: | CONS: |
| You are covered for all colleges and universities | It makes your SAT longer |
| A good score for the SAT essay may boost your application | You have to spend more time on preparation |
| – | You'll need to pay extra costs |

How to Decide When to Take the SAT
Think strategically when choosing the date for taking your SAT:
How much time do you need to prepare? Map it out, set goals, visualize your plan – and you'll know what SAT date fits you best.
How busy are you with other tasks at the moment? With tons of other assignments and commitments to complete, you'll hardly find enough time for preparation. So, choose the season when your schedule is not that crazy.
What is your college application timeline? You'll need the SAT completed before you submit the application, so time accordingly.
How to Register for the SAT
First of all, choose the date, based on the tips above. Try to complete your SAT registration as soon as possible, because the late registration usually needs an extra fee.
Also, decide if you take the SAT essay. For that, find out if your chosen colleges require such essays. Also, check if they ask applicants to take SAT Subject Tests (they are given by College Board on individual subjects).
You can complete the registration on the College Board website, or fill in the Student Registration Booklet and send it by email. (Ask your school counselor for this booklet.)
You'll need to upload a picture of yourself and provide all your personal data. Make sure the photo and info match with those in your ID. Also, pay a registration fee.
Once your registration is complete, print out the Admission Ticket: you'll need it when come to take your test.
Top Changes to SAT Essays in 2022
In case you don't know, the SAT has changed since 2016. Many educational blogs and websites wrote about it because it was the year of the biggest change to this test, and it impacted students greatly.
Time, format, scores, sections… Everything is different now!
Here go the most significant changes to SAT essays in 2020 and later:
The SAT essay is optional now.
Students have 50 minutes for writing it. (The old SAT gave them only 25 minutes.)
This essay is argumentative now, and it asks you to analyze another essay. (The old SAT required to answer a theoretical prompt in your essay.)
The SAT essay is scored separately now. (The old SAT had an essay as a part of the Writing section, and the score range for it was 200-800.)
The old SAT essay:
The new SAT essay:

25 minutes
scored 200-800
required
theoretical

50 minutes
scored 2-8
optional
argumentative/analytical

More changes to the overall SAT test are gathered and turned into the infographic by Student Tutor. Check here for details.
Or, let's turn to SAT essay examples!
That's what an SAT essay task looked back in 2016:

As you see, it's focused on a more theoretical response. Graders didn't estimate any analytical skills.
And that's the example of a new SAT essay task: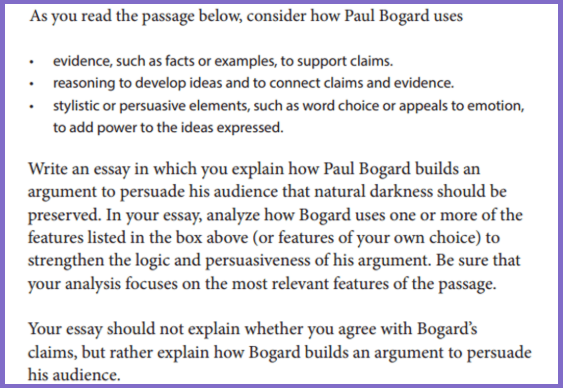 It requires a more argumentative and analytical approach from students. Graders can see your critical thinking skills, not just your personal opinion on a given theoretical prompt.
Both examples are taken from Allen Cheng's article at PrepScholar. He shared the complete guide to the SAT new rules and its most meaningful changes for students.
How to Write SAT Essay?
Below, you'll find SAT essay tips that can help to improve your scores. But now let's turn to an essay structure and your step by step tutorial on how to write SAT essays.
Lucky you are, the SAT essay structure is similar to any standard academic paper teachers asked you to write in class. Known as a 5-paragraph essay, its basic parts are:
Introduction: 2-3 sentences with a hook and a thesis statement.
Thesis statement: a central argument of your essay, so take your time to craft it.
Supporting paragraphs (two or three, if time): each of them should include a topic sentence, evidence, and a concluding sentence to demonstrate how it refers to your thesis statement.
Conclusion: 3-4 sentences, summarizing your arguments in a concise manner.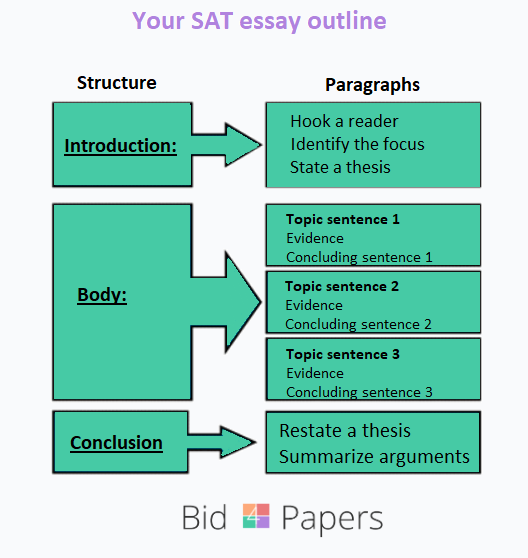 Given that you have 50 minutes for writing the SAT essay, make sure to allocate this time like a boss:
Read the prompt: 1 minute.
Read the passage, annotating the core info: 15 minutes.
Outline the essay: 5 minutes.
Write an essay: 25 minutes.
Check an essay: 4 minutes.
Don't hurry up to read the passage: pay attention to the task (prompt) itself, as it will help you understand what information and evidence to concentrate. So, here we have the first step to writing a good SAT essay: read the prompt before the passage.
After that, read the sample passage carefully. Underline the evidence and examples you can use to answer the prompt in your essay. Remember, that your SAT essay will be scored for Reading, so you'll need to demonstrate that you understand the text's main points.
To get a high score for Analysis, you'll need to explain and evaluate the author's arguments. So, when reading the passage, identify his central claim and instruments he uses to support it (reasoning, evidence, stylistic elements). Focus on the most relevant and persuasive ones.
State your thesis. It should sum up your assessment of the author's argument. Make it concise and clear, but don't add any personal attitudes. Remember: you analyze the author's view rather than share your own. Stay objective when reading the passage and then creating your central claim.
Now it's time for outlining your essay. Map out it briefly in the introduction, then specify topic sentences and evidence for each paragraph of your essay's body. Write the draft, with an essay conclusion restating your thesis and summarizing the whole paper.
Check your SAT essay: make sure to use effective language and word choice. Use a variety of sentence structures but stay clear and informative. Your essay gets scores for Writing too, and high scores go to works that are "cohesive and demonstrate highly effective use and command of language." (Source)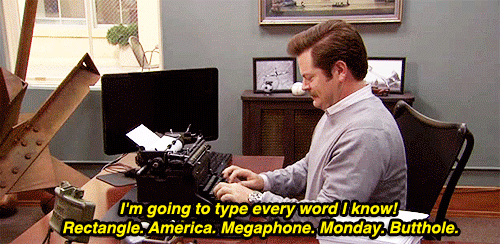 Source: Giphy
So, avoid low-level vocabulary, correct all spelling and grammar mistakes, and check if you use the right transitional phrases to describe relationships between the arguments in your essay.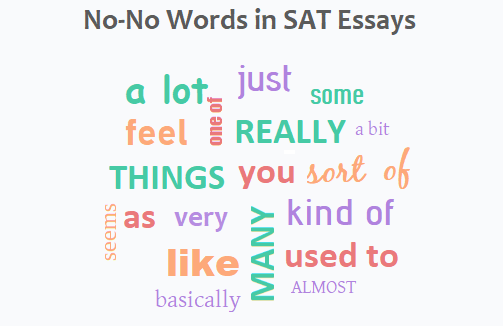 SAT Essay Tips
Everyone loves tips, especially if they help to achieve goals and conquer new peaks. And when your goal is a high score for an SAT essay, you need tips more than ever. No wonder:
Who doesn't want to get a magic bullet to hit the target at one stroke, right?
We asked our team of professional academic writers to give readers their recommendations on essay writing, and here go the essay tips they've shared:
What you can do to earn high scores for the SAT essay:
Understand the scoring system.
Study essay samples; analyze their structure.
Practice a lot: take sample prompts and spend 50 minutes on writing essays based on them.
Learn to analyze texts and see central claims and evidence in them.
During the SAT, read the prompt before the passage. Always.
Use accurate facts: support your points with evidence from the passage.
Be objective: answer the prompt but don't add any personal opinion or points.
Take your time to organize the SAT essay, and don't forget to revise it.
Make your essay longer than one page: though they say length doesn't matter, your short response might be not enough for graders to see your writing skills — and you score for the Writing criterion will suffer.
Follow standard tips for essay writing: use straightforward language, give a clear thesis, structure your essay logically.
Use a timer when practicing your SAT essay: remember that you'll have 50 minutes only, so make time for analyzing, planning, writing, and revising it.

Colleges That Require SAT Essay
Your decision to take the optional SAT essay might heavily depend on which college you are going to apply.
So, let's check what colleges require SAT essays. If yours isn't in the list, feel free to catch a break: you won't have to prepare for this writing test and spend money on taking it. However, we would recommend you to double-check with each school at their official websites. (Rules change, you know, and the information tends to go out of date in time.)
We took the most popular colleges among US students only. If your school isn't on the list, check SAT essay policies of all educational institutes at the official College Board website.
| | | |
| --- | --- | --- |
| College | State | Recommend or Require the SAT essay? |
| Benedictine University | IL | Require |
| California Institute of Technology | CA | Neither require, nor recommend |
| Columbia University | NY | Neither require, nor recommend |
| Corban University | OR | Recommend |
| Cornell University | NY | Neither require, nor recommend |
| Dartmouth College | NH | Neither require, nor recommend |
| Duke University | NC | Require |
| Georgia Institute of Technology | GA | Recommend |
| Harvard University | MA | N/A |
| John Wesley University | NC | Require |
| Massachusetts Institute of Technology | MA | Neither require, nor recommend |
| New York University | NY | Neither require, nor recommend |
| Northwestern University | IL | N/A |
| Princeton University | NJ | Neither require, nor recommend |
| Purdue University | IN | N/A |
| Stanford University | CA | Require |
| University of Chicago | IL | Neither require, nor recommend |
| University of California, Berkeley | CA | Require |
| University of North Texas | TX | Require |
| University of Pennsylvania | PA | Neither require, nor recommend |
| University of Washington | WA | Neither require, nor recommend |
| West Virginia University | WV | Require |
| West Virginia University Institute of Technology | WV | Require |
| Yale University | CT | Neither require, nor recommend |
SAT Essay Examples
As mentioned, you need to practice a lot to write the SAT essay worth a high score. That's true. But what else you can do is pre-plan the examples and evidence you'll use in the essay! For that, analyze SAT essay examples available online.
Yes, the specifics of your prompt will differ; but they can help choose the types of examples you'll use to explain the author's argument.
College Board shares many SAT essay examples with detailed analysis and explanations of why they gave these or those scores to students. They'll help you understand what to expect from your essay and what writing weaknesses of yours to improve.
This is the SAT essay example that has got 2/1/1 from graders.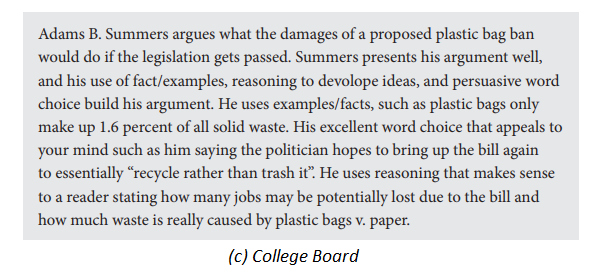 (Oops, you better don't write like that!)
And this work has got 4/4/4 points! See the difference: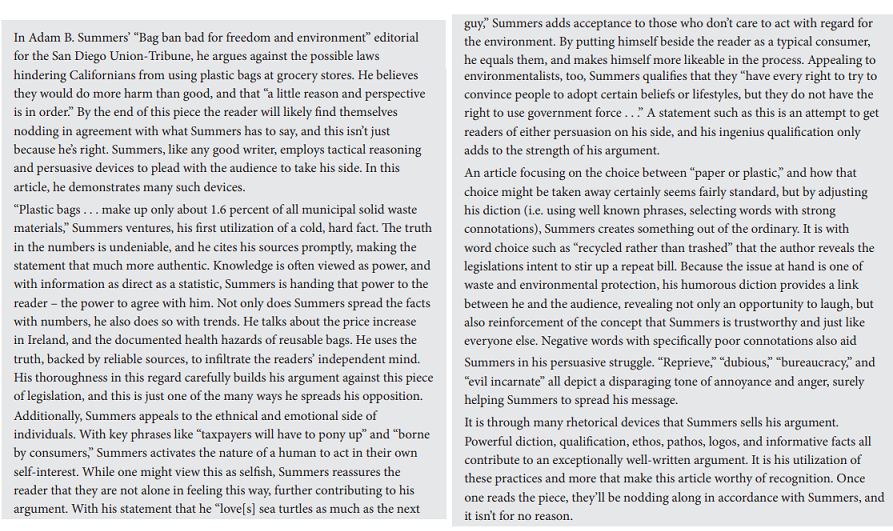 (c) College Board
Additional Resources to Check: