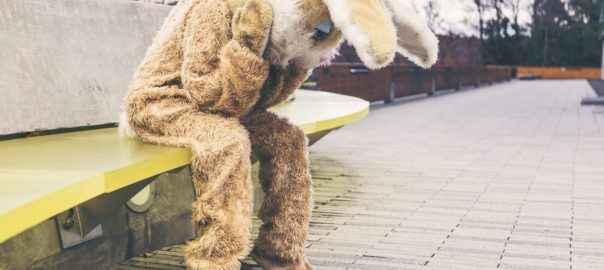 Persuasive Essay: The Ultimate Guide on Writing It
A persuasive essay is a type of academic writing where you use logic and arguments to convince readers of your point of view, using solid evidence such as research, stating facts, examples, and quotes from experts.
Oh, no. Essays… Again!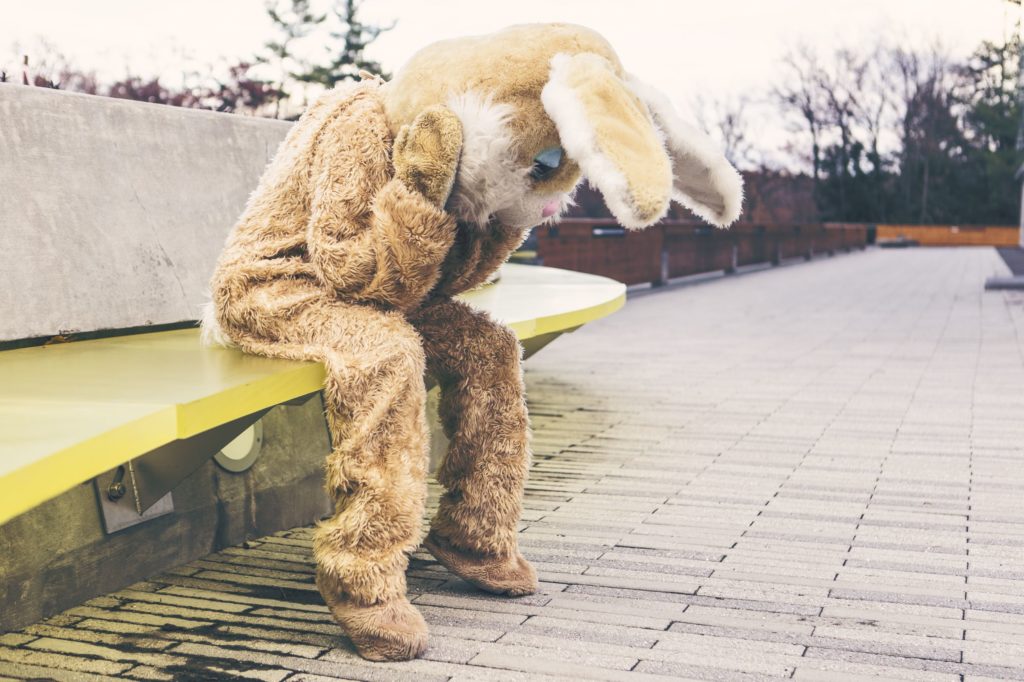 image by Gratisography
Persuasion essay example are many, and students have to know them all, as well as understand the difference between them. What to do if a professor assigns a persuasive essay to you?

Here you'll find the ultimate guide on writing persuasive essays, including the tips on choosing a topic, outlining your essay, structuring it step by step, representing strong arguments to convince readers of your position, and examples/additional resources to check for better essay writing.
So, here we go!
What is a Persuasive Essay?
A persuasive essay is one in which you use logic and arguments to convince readers of your point of view. For that, you need to provide solid evidence for arguments, such as research, stating facts, examples, quotes from experts, and logical reasons.
Persuasive essays are also known as argumentative. However, there's a difference between these two essay types:
In argumentative essays, you show both sides of the coin to readers. You describe all arguments and counterarguments, even if you don't agree with some of them, and it's up to readers to decide which works best.
In persuasive essays, you choose a side and represent arguments only about this aspect to convince readers of the truth of your words.
Persuasive Essay Topics
For your writing persuasive essays to succeed, its topic needs to be polemical rather than expository. It means you can't argue about common knowledge such as "People need air to breathe." But something like "People need marijuana for better health" might work. For those looking for an essay maker to help craft an argumentative, polemical essay, you can take advantage of online tools and resources.
Sometimes professors assign a particular topic for you to write. But more often than not, they ask to choose a topic of your interest and craft a persuasive essay in a given time.
The best polemical issues to use for a persuasive essay include spheres like culture, politics, climate changes, gender issues, animal rights, and religion. But sure enough, you can choose anything that worries you if you enough arguments to persuade readers of your position.
Here goes the list of persuasive essay topics for you to consider (first appeared at ThoughtCo):
Beginner
Persuasive Essay Topics for Beginners
Why give money to kids for high grades.
Students don't need homework to succeed.
Winter is the best time for a family holiday.
We don't need so many days off.
Children should take part in elections.
Cats are better pets than dogs.
People aren't alone in the universe.
Village is better than city to visit in summer

Evening schools are best to visit.
We shouldn't investigate black holes.
People can't eat animals.
Kids shouldn't spend hours online.
Robots should displace teachers.
We shouldn't travel alone.
Adults need to give food to the poor.

Intermediate
Persuasive Essay Topics for Intermediates
Poetry affects a person's morals.
We do not need to protect nature from climate change.
People don't need the truth.
Classical works are outdated.
The greatest happiness for man is love.
Independence today is greatly exaggerated.
We should not devote our lives to love.
Higher education is not a guarantee of success.
It is necessary to fight for life.
Every American should learn a foreign language.
Art does not calm down but worries people.
There is no equality in friendship.
An active life position determines success.
Wealth spoils a person's morals.
Defeat is not bad.

Everyone is able to change history.
Progress deprives a person of the ability to be surprised.
Being selfish is good.
YouTube will never replace a book.
A child does not have to love his parents.
Parents should not control their children.
Dreams do harm.
Goodness does not always have to overcome evil.
Why money is the most important thing in a person's life.
A person should not forgive every offender.
Students shouldn't wear uniforms at school.
Money spoils people.
We shouldn't teach music in schools.
Nuclear weapons are effective to prevent foreign attacks.
People should read more books.

Advanced
Persuasive Essay Topics for Advanced
Kids under 10 shouldn't use social media.
Teens should become full-aged in 18, not 21.
We should cancel Green Cards in the USA.
Revenge is a way to destroy evil.
It's time to approve one currency for the whole world.
The power of kindness is in its weakness.
There is no difference between cruelty and severity.
It is not easy to be kind.
We need to allow surveillance without a warrant.
Parents should talk about drugs with kids at an early age.
Racial insults should be illegal.
People who leave their pets should be imprisoned.
The President must pay attention to climate change.
Marijuana should be legalized throughout the country.

Pupils should be allowed to pray at school.
Internet access should be free for everyone.
Eating meat is bad.
Life is worse now than it was 100 years ago.
It is necessary to cancel the mandatory exams in schools.
All people should become vegetarians.
Public safety is more important than a person's right to inviolability.
It is necessary to ban animal experiments.
Single-sex schools improve the quality of education.
Feminism is no longer a struggle for women's rights.
Tolerance has already begun to transcend all boundaries.
We need better sex education in schools.
Freedom of religion does not mean imposing one's faith on others.
Freedom of speech should be restricted.

Make sure to choose a persuasive essay topic that inspires but also gives you materials to research. If you can't find any strong arguments to support your statement, your persuasive essay will hardly get an A.
Also, feel free to consider these topics when thinking of what to write in your essay. They are up-to-date, with tons of debates in literature and online, so you'll cover any of them by all means.
Topics to Choose for Your Next Persuasive Essay
| Evolution | | Privacy rights | | Gun control | | Vaccines |
| --- | --- | --- | --- | --- | --- | --- |
| | | | | | | |
| Animal rights | | Religious freedom | | Abortion | | Cannabis legalization |
| | | | | | | |
| Global climate changes | | Marriage rights | | Punishment | | Free market capitalism |

Every topic from the above is quite debatable and has both advocates and opponents. The Quad shares the links to them all, so if you decide to write a persuasive essay on any controversial topic from the list, you can learn arguments and find evidence from both sides of the fence.
Persuasive Essay Structure
The structure of your short persuasive essay is not that difficult to remember and follow.
Given that you need to convince a reader of your arguments, you'll first need to state a thesis in your essay introduction, and then write a couple of paragraphs to share the evidence that support your thesis. Don't forget to include counterarguments from your opponents but explain why you disagree with them.
And finally, write a conclusion restating your thesis and providing a reader with food for thought.
Persuasive Essay Structure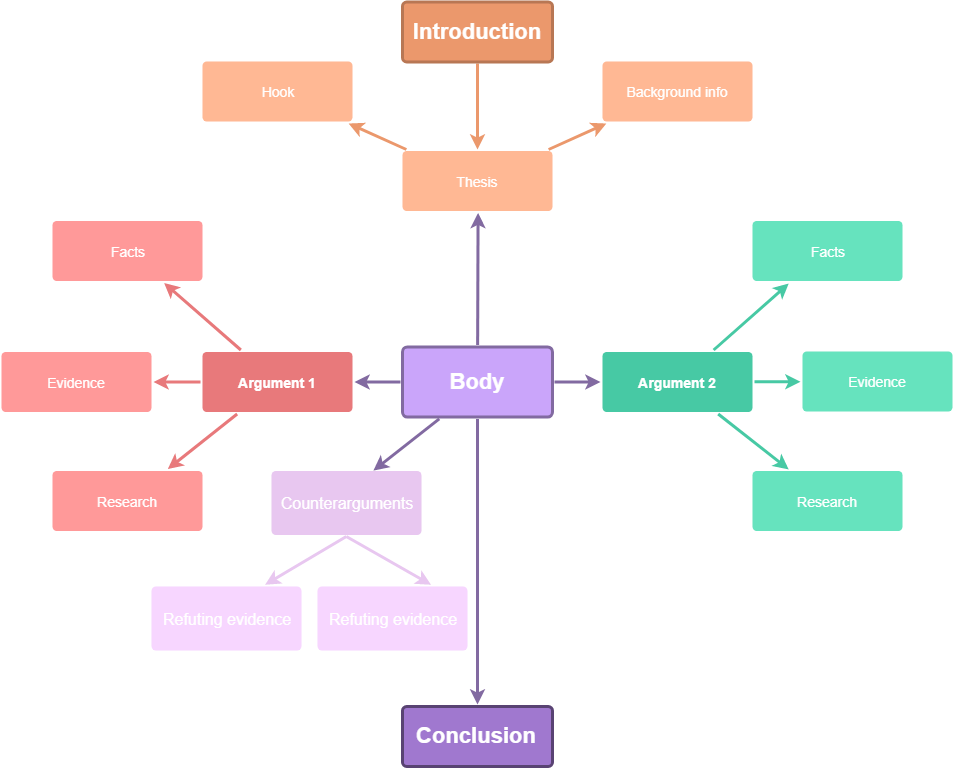 Introduction: hook, background, thesis.
Body: 1-2 paragraphs, each with an argument and supporting evidence.
Body: 1 paragraph, with your opponent's arguments and your counterarguments on why you still disagree.
Conclusion: sum up your points, restate your thesis, and leave readers with food for thought.
In the introduction, describe the problem and state the point you're trying to make. Also, think of a strong hook for readers to understand why they should care.
In body paragraphs, support your thesis with evidence from credible resources. Leave one paragraph for counterargument: what your opponents have to say on the issue and why you still disagree. Use logical arguments and research to convince readers.
In the conclusion, wrap up your persuasive essay by restating your thesis. You may end it with a question for readers to think about.
How to Use Arguments in Persuasive Essays
First and foremost, you need to understand the basic principles of persuasive writing and know the five elements of persuasion.
Given that you need to get others to accept your point of view, your arguments in the essay should be reasonable, verifiable, and credible enough. More than that, you need to appeal to human logic and emotions. The right combination of emotional and rational elements is what makes your essay persuasive.
How to reach that?
Remember the basic principles of persuasive writing, described by Aristotle many moons ago. He called them elements of rhetoric, and they were three:
■ Ethos (appealing to a writer's character and credibility): use authoritative resources to prove your arguments.
Example:
"I'm a Doctor of Dental Surgery, and I recommend this toothpaste to keep your teeth white."
■ Pathos (appealing to emotions): focus on a reader's morals, values, and beliefs.
Example:
"You just can't be cool in high school without a white smile! How to communicate with peers if you worry about your teeth and freshness? That's where a good toothpaste will help."
■ Logos (appealing to reason): use logic and evidence to persuade others to agree with you.
Example:
"Recent studies conclude that this toothpaste removes 40% more plague and makes our teeth 20% whiter than all other types of toothpaste."
The above and more examples: Your Dictionary
Ethos, Pathos and Logos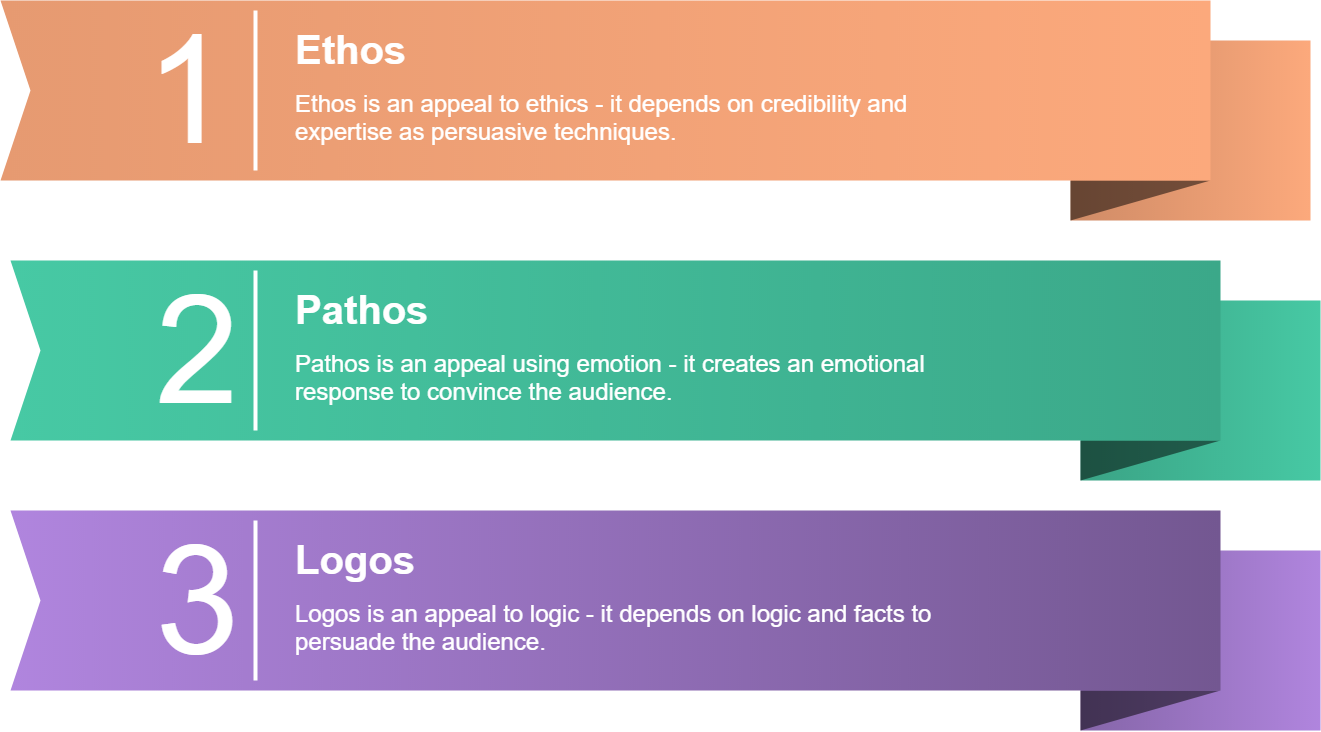 Unlike logos and pathos, ethos is not about writing itself but your reputation as a writer. For example, readers of your essay will trust you and agree with you because they know you as a good student who spends tons of time exploring this topic. Or, millions trust Kim Kardashian because she's a world-famous media persona, not a random girl off the street. Her popularity is her ethos.
In the context of essays, you can reference to credible personas and organizations in your work. Their ethos is what can help your arguments sound persuasive.
Five Elements of Persuasion in Your Essay
Persuasive essays have no paragraph limits. You can write one body paragraph to explain your position, and another paragraph – to describe counterarguments of your opponents and why you disagree. Or, you are welcome to write 2-3-4 paragraphs with arguments and counterarguments to persuade readers.
But here's what matters:
For your persuasive essay to sound credible and argumentative, make sure it has the following five elements inside:
Your clear position. Make your thesis narrow in focus. It can be a claim, a fact, a definition, a solution, or a call of judgment. Feel free to use our thesis statement generator to introduce the idea of your essay. It should present your position on the topic.
Effective communication. Hook the audience's attention with some background information on the topic. You can start with a question, inviting them to keep on reading to find out your opinion. Use straightforward language, don't manipulate with readers' emotions.
It's all about pathos: your writing voice and style is more likely to persuade readers than boring and vague language with tons of grammar mistakes.
Your solid (+ credible) argument. Make it logical, consistent, and fact-based. It should address the interests of those you want to persuade and be endorsed by authoritative third parties.
Consider your audience. What do they already know about the topic? What do they think of it? Do they agree or disagree, and what are the chances to change their opinion? Are there any sensitive issues about the topic?
Remember the formula: one paragraph = one argument + one reason why you think like that. And make each reason logically connected to your thesis statement.
What evidence can you use to support arguments?
proven facts
statistics
definitions
research
quotes from experts
examples to illustrate your point of view, including your personal experience
relevant emotional appeals
This guy from Smrt English will help you get a better idea of what it's all about. Perfect for those who choose watching over reading. 😉
Clear structure. Organize your persuasive essay so every argument would relate to the thesis. Start with the weaker argument and build your essay up to the stronger point for readers to remember the most convincing information.And pay attention to transitions and connections between paragraphs to show the relationships between arguments in the essay and make it easy to follow.
Strong conclusion. Restate your thesis in the light of the evidence you've provided in the essay. Make your conclusion logically draw from your arguments.
How to Write a Persuasive Essay: Step by Step
The most common questions students ask are how to start a persuasive essay and how to end a persuasive essay.
But they forget one tiny detail here:
They need to take at least four steps before the actual essay writing. Here it goes, the process of persuasive essay writing, step by step: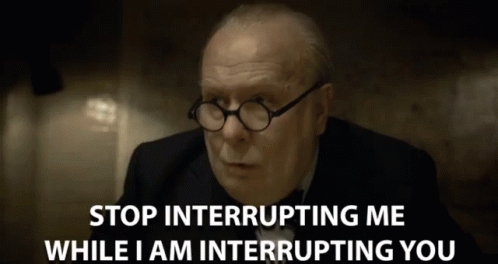 Source: Giphy
Step 1 – Choose Your Position
A persuasive essay is called so because the issue you describe there is polemical. It means you can argue both for and against it. But it's crucial to decide which side you are going to support before writing your essay. In other words, you need to know the purpose of your persuasive essay.
For example, if you are going to write about global warming or green marketing but you personally believe that it's not the problem of Herculean proportions, you can choose the corresponding position to describe in your essay.
But:
Make sure you can find enough evidence to support it. For a persuasive essay, it should be based on solid research and credible arguments. Do you have them to back your cynicism about the climate change problem?
Step 2 – Do Research
To convince readers of your position, you need to know the topic inside out and understand it from multiple angles. And given that your persuasive essay should provide convincing evidence for your claims, you'll have to do research to find them.
It's not only about your personal experience and knowledge but also academic studies, historical examples, relevant media news, and expert opinions. To gather them, you might need to visit libraries or interview opinion leaders. Or, you might want to send them emails and ask for their expert thoughts to use as references in the essay.
When choosing evidence and resources to cite in your essay, consider the CRAAP test to evaluate them:
How to Evaluate Sources and Understand if You Can Use Them as References in Essays
The CRAAP method: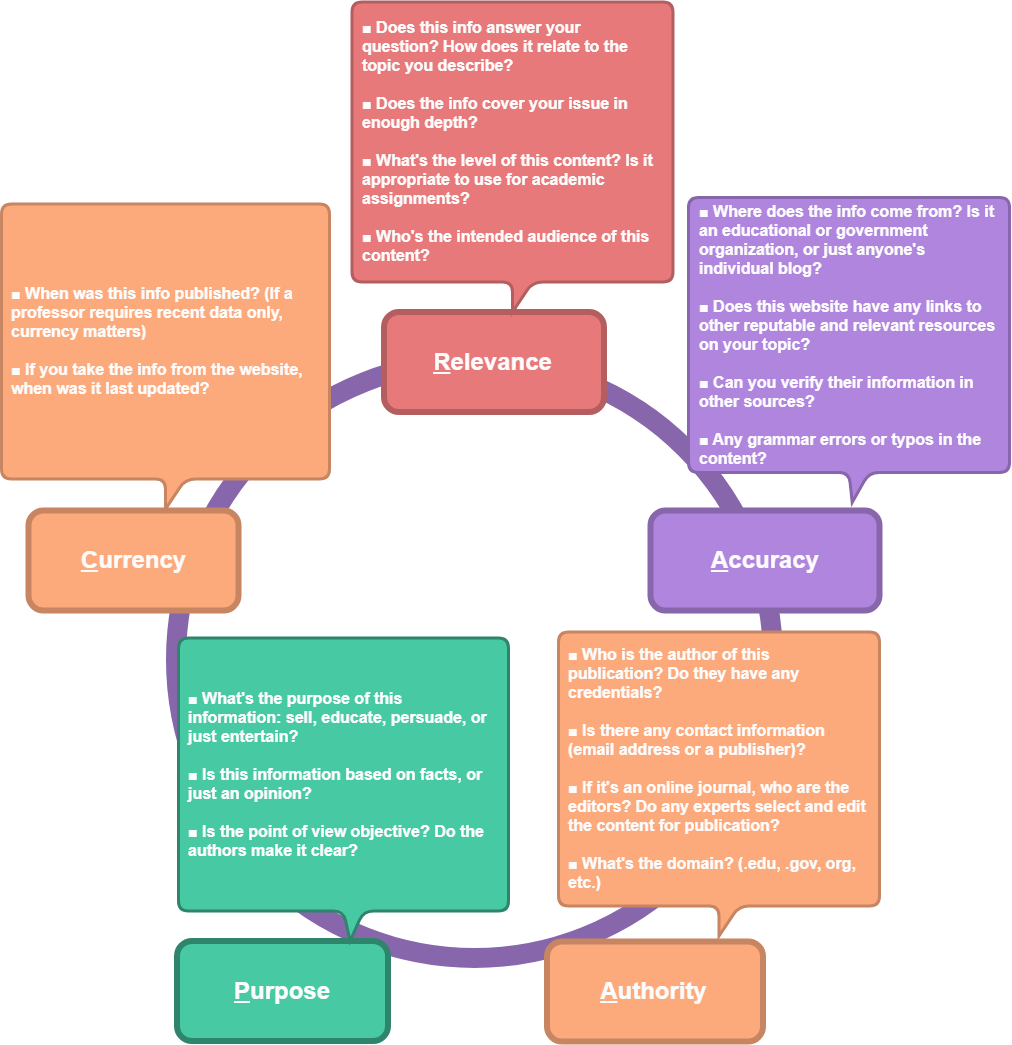 Yes, it takes time. So make sure to save it for research and don't cut it close the deadline. Vague assumptions and unverified information won't work here.
Step 3 – Identify the Strongest Evidence
Once the research is ready, you may have many different aspects to cover the topic. But you can't write about all of them. Choose the one with the strongest evidence that will help to support your position, and concentrate on it for stating the thesis of your persuasive essay.
Don't hurry up to choose the most commonly argued aspect. If you've gathered enough evidence for a rarely discussed problem around your topic and essay purpose – focus on it.
For example, if you claim that people have no impact on global warming and you've found a few latest but not-yet-widely discussed studies on the topic, it might be great evidence to provide.
Step 4 – Write a Persuasive Essay Outline
And now, for the most interesting part:
Outline writing.
Before you sit and start a persuasive essay, write its plan. It's a kinda map for you to understand how your essay will look, and it helps you make sure you don't miss anything from its structure.
Here is the template for you to use:
Persuasive Essay Outline
I. Introduction
a) Lead/Hook (quote, question, anecdote)
b) Lead/Hook explanation
c) Thesis Statement
II. Body. Paragraph-1
a) Topic Sentence (the first main point in the thesis)
b) Quote (to support the point)
c) Explanation of the quote
d) Explanation of how this quote relates to the thesis
III. Body. Paragraph-2
a) Topic Sentence (the second main point in the thesis)
b) Quote (to support the point)
c) Explanation of the quote
d) Explanation of how this quote relates to the thesis
IV. Body. Paragraph-3
a) Topic Sentence (the third main point in the thesis, or a counterargument to the thesis)
b) Quote (to support the point)
c) Explanation of the quote
d) Explanation of how this quote relates to the thesis
V. Conclusion
a) Summary of all main points
b) Thesis restatement
c) Call to action or what you want readers to do after reading your essay

The outline allows you to specify all core components of your persuasive essay so you wouldn't get lost in the writing process.
Step 5 – Write a Draft of Your Persuasive Essay
Finally!
Once the outline is ready, just sit and write your essay. Don't concentrate on spelling or grammar mistakes, and don't get distracted from the process of writing itself. Just let your thoughts flow, don't hurry up to edit.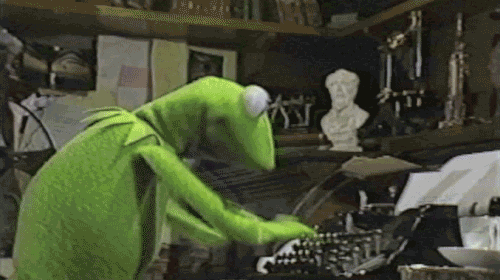 Source: Giphy
After you've finished the draft, put it aside, and wait for a couple of hours or a day. You need some time between the writing process and proofreading/editing your essay: it helps to judge your work with a fresh eye and see if there are any weak points to revise.
Step 6 – Proofread and Edit
It's not about spell check only. When editing a persuasive essay, you need to re-check arguments once again, make sure your language is appropriate (avoid pompous or jargon phrases), and the overall essay structure isn't too complex.
Questions to answer when editing:
Editing Your Essay: Questions to Answer
■ Did I answer the question given in the assignment?
■ Did I structure my essay right?
■ Did I make all paragraphs clear and coherent?
■ Did I use the appropriate language throughout my essay?
■ Did I cite and reference all resources in the right way?
■ Did I exceed the word limit?
■ Did I proofread my essay for spelling and grammar errors?
■ Did I present the assignment well?

Also, you can use free editing apps and tools to check your persuasive essay for errors. For example, the Hemingway App will help to make your writing concise; Grammarly will spot spelling, punctuation, and style mistakes; and ProWritingAid will count the words in your essay and also fix your grammar mistakes.
But if it still sounds difficult to you, feel free to ask academic writers and editors for the professional help. They'll comment on your mistakes so you'll improve writing skills and craft your future essay better.
Persuasive Essay Samples
All this is good, but is there an example of a persuasive essay?
Here go samples for your consideration.
(Note! Samples are aimed for assistance purposes only: don't plagiarize them and don't copy their parts to use in own papers. Instead, ask our writers for help – and you'll get an A-worthy essay right away.)
Additional Persuasive Essay Resources: