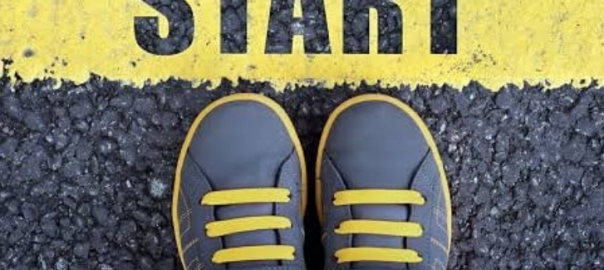 How to Start a Persuasive Essay
Here's your strategy, step by step:
Brainstorm your topic.
Choose a hook.
Provide the context.
Narrow it to the main point.
Write a thesis statement.
Be brief.
Avoid clichés.
Stay persuasive.
Feel free to write an introduction after the essay body is ready.
Just imagine:
You write a persuasive essay, submit it for a review, but a teacher says he didn't even read it because its first paragraph was lame.
What a shame, huh?
Indeed, an introduction matters. And when you don't know how to start a persuasive essay, you'll never write an A-worthy one, even if the rest of your paper is top-notch.
Fortunately, there's a simple solution:
Read this detailed guide on essay introductions, learn how to begin a persuasive essay right, and… voila – you'll never experience the throes of creation or have a red face for poor writing skills.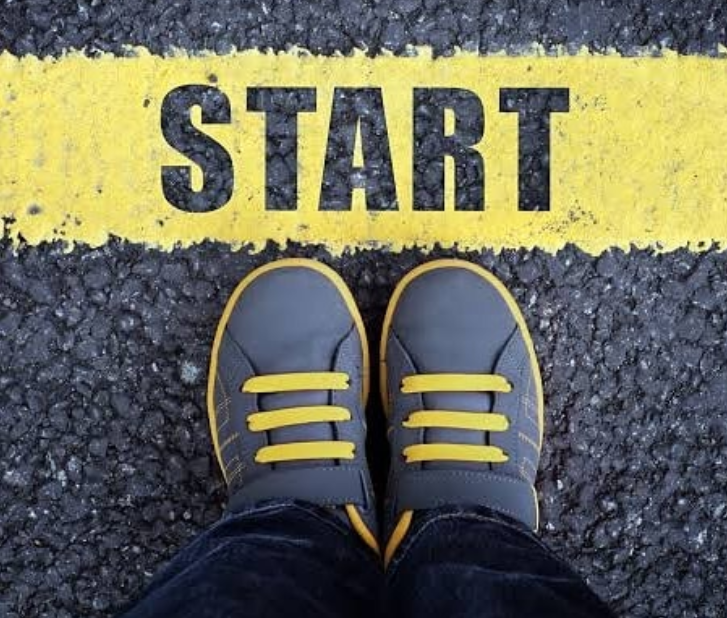 image source: Picdeer
So, How to Start a Persuasive Essay?
An introduction is a part of every writing piece, and an argumentative essay is no different here.
Essay introduction is the very first paragraph of your paper, aimed at representing its topic and argument to the audience and triggering their interest in reading the rest of your essay.
This paragraph has a clear purpose and structure. When done right, essay introductions can influence your final grade for a writing assignment. So, it looks like a must for every student to know how to start an essay, right?
Let's dive into details.
The Purpose of Persuasive Essay Introduction
Why know how to begin an essay?
First, it's your only chance to hook the audience and motivate them to keep on reading. As they say, you'll never get a second chance to make a first impression.
Second, it introduces your argument (thesis statement) and gives readers an idea of what they'll see in your essay.
Third, it reflects your writing style. The audience will understand the overall quality of your essay and decide if they want to read it and learn more.
An introduction of your persuasive essay should provide background information on the problem you cover and outline your position on it. And though you need a hook to get readers interested, don't keep them in suspense: a persuasive essay is not a narrative or a novel; make it short, clear, and concise.
Key Elements of Essay Introductions
The format of your essay introduction reminds an inverted pyramid:
Here you go from general to specific information: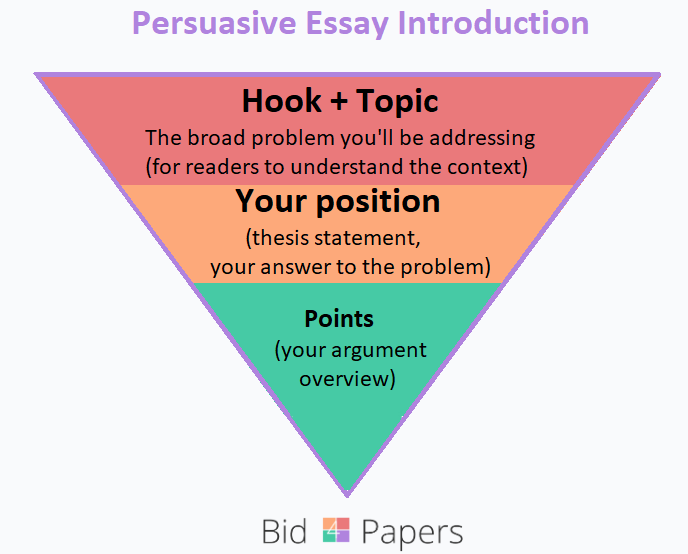 First, you write about the broad problem you'll be addressing for readers to understand the context; so, begin with a general point about the central issue.
Then, you narrow down to introduce your position on this problem (your thesis statement); so, give an overview of the key issues you'll cover.
And finally, you give an overview of your argument to indicate the direction it will take and make a transition to the body paragraphs of your persuasive essay.
Example: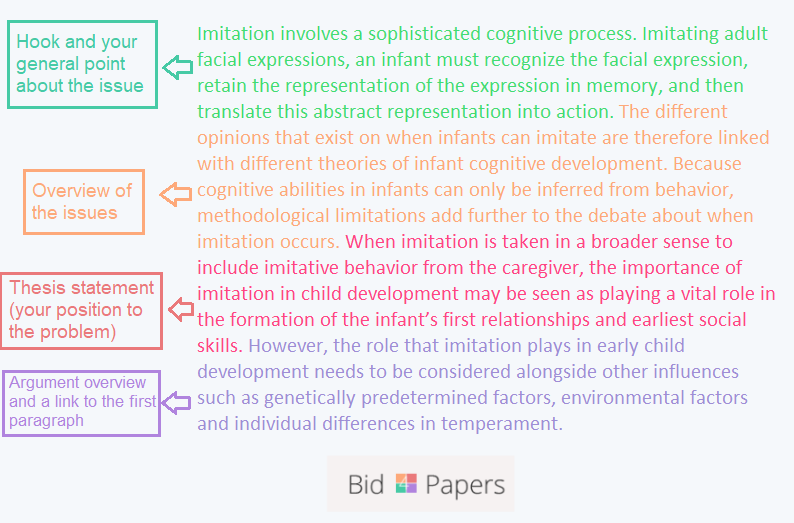 Long story short, an essay introduction consists of three parts: a hook (a strong opening sentence to capture readers' attention), a topic (the focus of your essay), and a thesis (your opinion on the topic).
Writing a Persuasive Essay Introduction: Step by Step
For most students, introductions are the trickiest part of an essay to write.
Why?
An essay introduction is the first thing readers see, and you understand it should be persuasive enough so they would like to continue reading it. You need to hook a reader, introduce your topic, and state a strong thesis for the audience to follow you and want to learn more. All the while, you should keep in mind that the goal of writing a term paper is to answer a specific question or address a particular issue. The below tips will help you master the art of introduction writing once and for all, allowing you to easily write a successful term paper.
1) Think about your topic.
Don't hurry up to start writing. First, think carefully about your topic to understand what you know about it and decide what position you'll state, what arguments you'll use, and what question you'll answer in your essay.
Write down the facts that you already know about the topic. Thus you'll understand if you need more research to find extra information and arguments for your essay introduction to get the reader's attention.
2) Choose a relevant hook.
An essay hook is the first one or two sentences of essay introductions that serve to grab the reader's attention. Hook types are many, and it can be difficult to choose the most relevant one, especially if you haven't clarified a thesis yet.
For persuasive essays, the best hooks are a thought-provoking question, a surprising fact/definition, a relevant quote, or statistics.
Once your hook is ready, make sure you have a transition to the topic itself. For that, use transitional words and phrases so your writing could sound natural and logical for readers to follow.
3) Provide a background.
Try making your essay hook a part of a broad background to give readers the context of your writing.
But:
Don't share your main arguments with evidence and proof here. Leave it for body paragraphs. In essay introductions, you just introduce a problem and explain why it can be controversial and debatable.
4) Narrow the background to introduce a topic.
After you've come up with a hook and a background statement, it's time to introduce your topic to readers: state an issue and narrow that background so they would understand your point (what you are going to explain and prove them in your essay).
5) Write a thesis statement.
And finally, state a thesis. It's a central claim (your opinion on the topic) you'll discuss and prove in each of the following paragraphs, and it's a sentence or two that close your essay introduction.
A good thesis is brief and informative, it provides readers with a clear argument about your opinion on the issue, and it has a logical basis. In other words, there should be facts and evidence supporting your claim. (Feel free to use a thesis statement generator to ease the process.)
Here's the example of how to start a persuasive essay: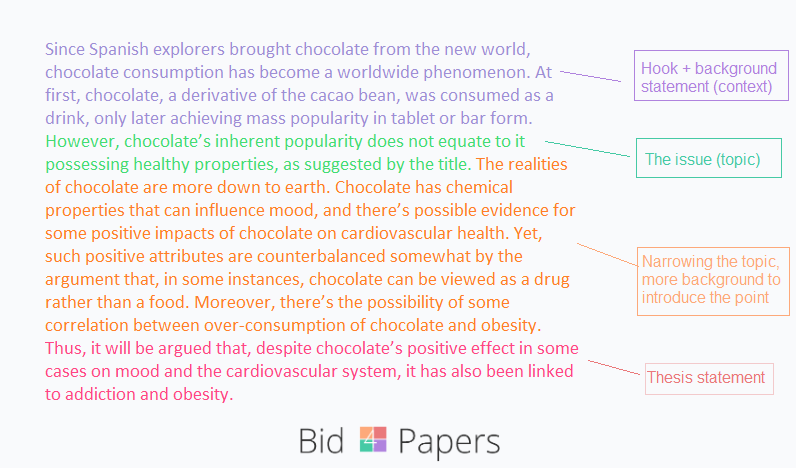 Extra tips to follow:
6) Avoid clichés.
Some types of essay introductions become so successful that most students start using them over and over again, turning their works into boring and clichéd templates.
Don't do like that.
Yes, it's easier to start an essay with a simple definition or something like "In this essay, I'll tell why students don't need uniforms at schools."
But don't you hear a teacher's whisper behind your back, saying, "It's bo-o-o-oring…"
Though your persuasive essay needs to inform readers about the topic, it doesn't mean you should say it literally. So, be informative but avoid vague and poor announcements.
Examples:
| No! (poor and clichéd) | Yes! (informative) |
| --- | --- |
| In this paper, I am going to explain how the North won the Civil War. | The North won the Civil War because it had greater manpower, developed industry, and access to the railroad system. |
| My report will explain some possible reasons why the dinosaurs went extinct. | While nobody knows for sure why dinosaurs went extinct, possible reasons include disease, global catastrophe, or natural selection. |
| This essay will illustrate how William Shakespeare used comedy to create social commentary in The Taming of the Shrew. | In The Taming of the Shrew, Shakespeare hides social commentary on the gender roles of his time behind the mask of comedy. |
image source: University of Maryland
7) Make your introduction as brief as possible.
Avoid vague and empty phrases in your essay introduction. Use only facts, bold opinions, and quotes that relate to your thesis statement. Stay as clear and concise as possible.
In introductions, you inform readers about what they'll find in the following paragraphs. So, list the points but don't elaborate on every argument.
Also, make sure your essay introduction is brief. You can't make it longer than 100 words if the overall length of your essay is about 500. Otherwise, it will look like a bunch of unrelated empty words. What's the use of it?
8) Stay persuasive.
Make your introduction engaging. While reading it, the audience should believe the essay's going to be worth checking. That's why the #1 rule for choosing a persuasive essay topic is that it should be polemical rather than expository.
Stay persuasive. Don't write about common knowledge but state your position concerning the issue, so readers could get interested in why you hold this position and what arguments you have to convince them.
9) Remember that you don't have to write an introduction first.
An essay introduction is the first paragraph of your paper, but who said you should write it first? It often happens that you know what to write in the essay body, but you haven't yet found the words to start it.
And that's how a writer's block appears. You stumble. It frustrates, disappoints, and makes you think you can't write. You procrastinate, miss deadlines, and you believe you hate everyone assigning those tasks.
But why not write second or third paragraphs first and come back to the introduction afterward? After all, it's not a mandatory rule to start a writing process with introductions only.
All you need to start an essay is a clear thesis statement. Hooks, backgrounds, transitions – you can write them later.
It's a Wrap!
When wondering how to start a persuasive essay, remember that it's about a brief overview of your topic and thesis. Make it short, engaging, and up to a point.
Here's your strategy, step by step:
Brainstorm your topic.
Choose a hook.
Provide the context.
Narrow it to the main point.
Write a thesis statement.
Be brief.
Avoid clichés.
Stay persuasive.
Feel free to write an introduction after the essay body is ready.
Not that difficult, right?
If still in doubt, check our ultimate guide on writing persuasive essays or ask our professional writers to help you win the battle for A+.