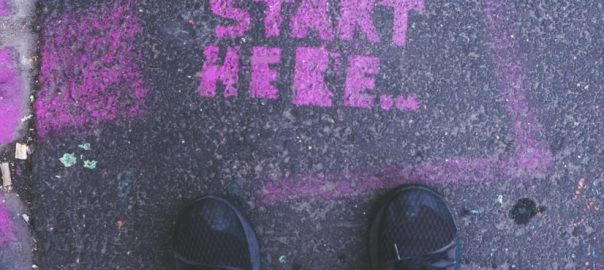 How to Start a College Essay Like a Boss
Here's how to start an essay:
Write a catchy hook.
Provide some context and background on your topic.
State a thesis, establishing your purpose and position on the topic.
Overview the main points you'll cover in the essay.
Check and revise if necessary.
In this article, we're going to tell you how to start a college essay.
Indeed, it's the most challenging part of essay writing for many students. They doubt everything here: how many sentences to write, what to include in the very first sentence, how to mention a thesis, what essay hook to choose, etc.
It's time to clear up this matter once and forever.
Ready? Let's get it started!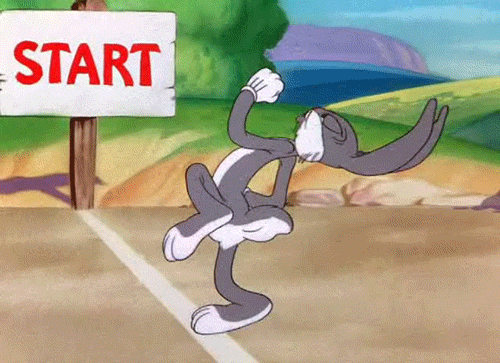 What is an Essay Introduction?
Here's the mistake of most students: When searching for the information on how to start a college essay, they suppose a thesis statement writing. Many overlook a helpful tool that makes essay writing easier, such as an essay maker.
Wrong!
Do not confuse an essay introduction with a thesis. A thesis is a part of the introductory paragraph, and it closes rather than substitutes it.
An essay introduction is the first paragraph of your work where you grab a reader's attention, give context on your topic, and set up the purpose of your essay.
In other words, you inform readers about what they'll see in your essay and motivate them to keep on reading to learn more about the topic and the problem you're addressing.
Why You Need to Know How to Start a College Essay
Students write tons of essays in college, and most of their A-worthy works fail because of poor introductions. The introductory paragraph is the first thing a professor evaluates, so a mistake in the very beginning can cost you a high grade. (Even if the rest of your essay is fantastic!)
An introduction demonstrates how well you understand a topic. It shows your critical thinking skills, your ability to separate main points and emphasize on specific issues, and your writing skills. Reading your essay introduction, a teacher sees if you can logically express your thoughts.
More than that:
Once written, your essay introduction simplifies further work for you. 
Look: You've figured out the core issue, expressed it in a clear and brief thesis statement, overviewed the points you'll cover – so, the following paragraphs of your paper are much easier to write now, agree?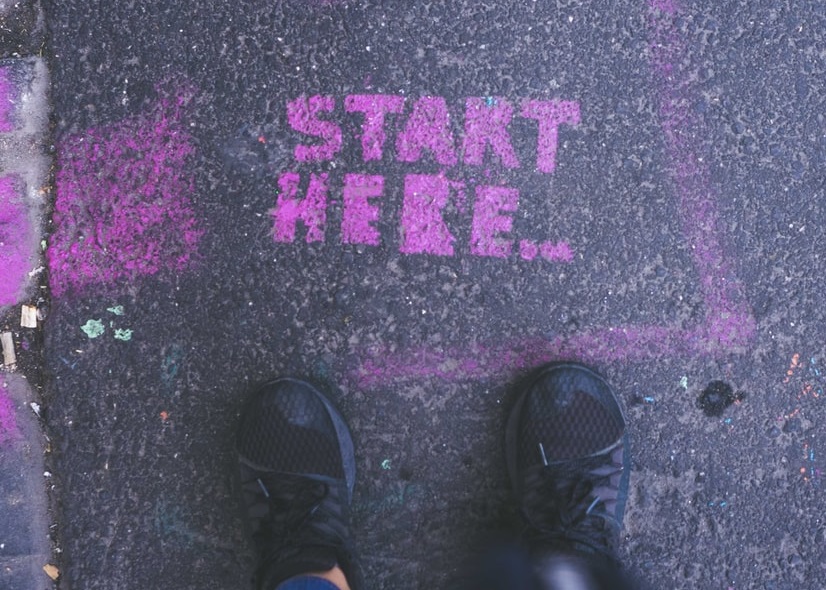 The purpose of an introductory paragraph of your essay is to give a clear idea of what you'll cover, provide some context (background info) on the problem you'll address, and state your thesis (position, contention, main argument).
Yeah, we know it sounds too challenging, and that's why some of you ask our writers for help with essays. But believe us, it's not that difficult as it seems. All you need to remember is what to include in the introductory paragraph.
And here it goes!
The Structure of the Essay Introduction
As a rule, an introductory paragraph of your essay should have three elements: a general opening statement (a hook) to engage readers, a thesis statement (your position, response to the problem), and a brief outline of the arguments you'll use.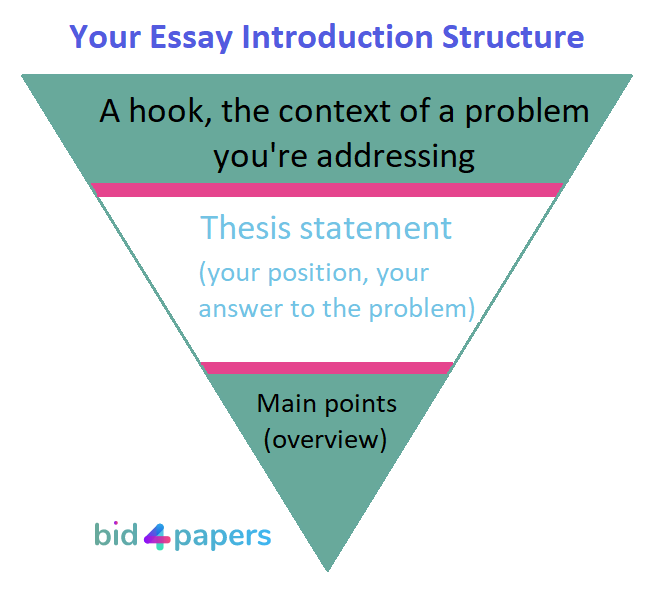 With that in mind, here's how to start an essay:
1. Write a Catchy Hook
It's the first one or two sentences to grab a reader's attention and provide them with some context on your topic. It sets the tone of your whole essay, so don't hurry up and spend some time writing it.
Think of a statement that would give some background information to your topic so readers would understand what's the problem and why it's worth their attention. Stay brief and relevant yet intriguing: Your hook should make the audience want to keep on reading.
2. State Your Position
It's a thesis statement of your essay — a sentence or two summarizing your focus and overall argument.
This part of an essay introduction is the most important one as it explains to the reader which aspect of the topic you'll address and how you will answer to the problem.
In other words, establish your position and purpose of the essay.
3. Outline the Main Points of Your Essay
Provide a short overview of how you'll approach the essay and what arguments you are going to use. It will show readers what to expect to see in your work.
And, next time when you think about how to write an introduction, feel free to use this template from Bid4Papers: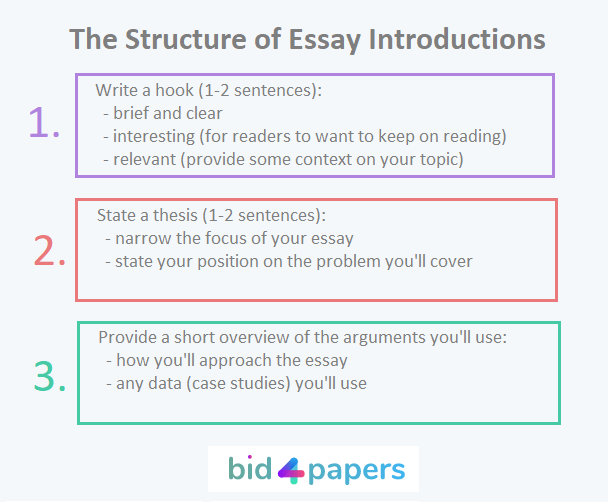 How NOT to Start a College Essay
The first impression is most lasting, and that is why the beginning of your essay should be compelling. Sure, you'll say a final word in the essay conclusion, but your hook and thesis need to be strong enough for the audience to read your work till the end.
Here we'll cover the writing techniques to avoid in essay introductions. They aren't that awful but overused. Most of them have become so cliched that they make teachers roll the eyes heavenward.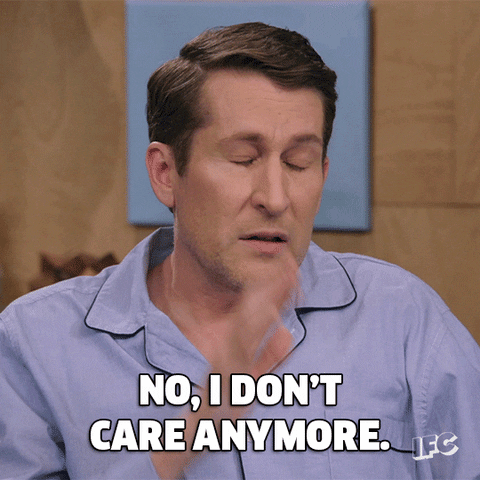 So, try not to start a college essay with:
A quote. As we mentioned in the article on essay hooks, quotes aren't bad themselves. The problem is that students use them so often, choosing too obvious or irrelevant sayings to start essays, that teachers stop taking it seriously. They want to hear YOUR thoughts.
But, if you still want to use a quote from famous people in your essay introduction, find a rare, witty, and relevant one. Don't copy-paste the first available from quotations websites.
A definition. Opening your essay with a description from online dictionaries, you'll make readers yawn. No one needs introductions such as "Webster's Dictionary defines 'truth' as…;" most of us have Internet access after all.
But, if you still want to use a definition in the introduction, think of rephrasing it so it would sound bold, outrageous, or exaggerated. It will help to hook readers.
A too-obvious thesis. Avoid spoilers in your essay introduction. Who needs reading a 2,000-word paper if you reveal everything in its first paragraph? Leave explanations and details for your essay body to make it sound persuasive.
Techniques of an effective essay introduction
Writing a perfect first part of your research paper is hard work that will require concentration and great knowledge of the topic. This is where you can hook your reader and audience so that they can finish reading the entire research paper. A good introduction for essay writing can be written easily if you heed the techniques from Bid4Papers authors:
try starting with a hook that will hook your audience. It can be an interesting fact, a statistic, or an intriguing statement;
you should include all the basic information in the paragraph, which means at least a little bit about the topic of your research paper;
write a good essay introduction. You can only use the arguments you need to provide in this part briefly;
write useful information in chronological order that will help readers navigate your paper;
at the end of the introduction, you should leave an explicit remark. This will be your thesis statement that you must reveal about the topic.
More often than not, introductions for essay is a tough task, but you can handle it. Try to also stick to the classic structure with a hook, a conjunction that helps describe the topic, and a thesis statement at the end. By doing this, you are guaranteed to be able to create a good introduction and get your audience interested in it.
You can also use different hooks, a crucial part of the introduction. It can often be a common misconception, statistical information, a personal story, or a loud statement. You'll also need to research your audience to write your introduction competently and not get the details wrong. Find out how knowledgeable these people are about the topic and what will help them understand your position from the beginning of the essay.
Essay Introduction Examples
Okay, it's all good and well, but what about the real-life examples instead of a theoretical blah-blah-blah, huh?
First, let's recap the introductory paragraph. (Here we'd like to thank Laura Randazzo, an experienced English teacher who shared the below template in her YouTube blog.)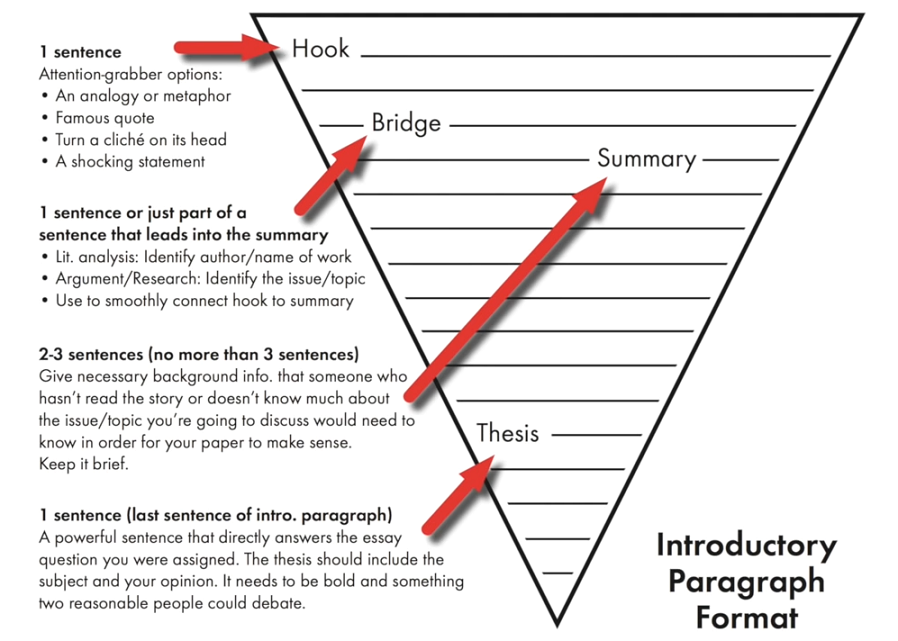 Second, keep watching her video to find the essay introduction sample from her students with explanations. That's the sample itself: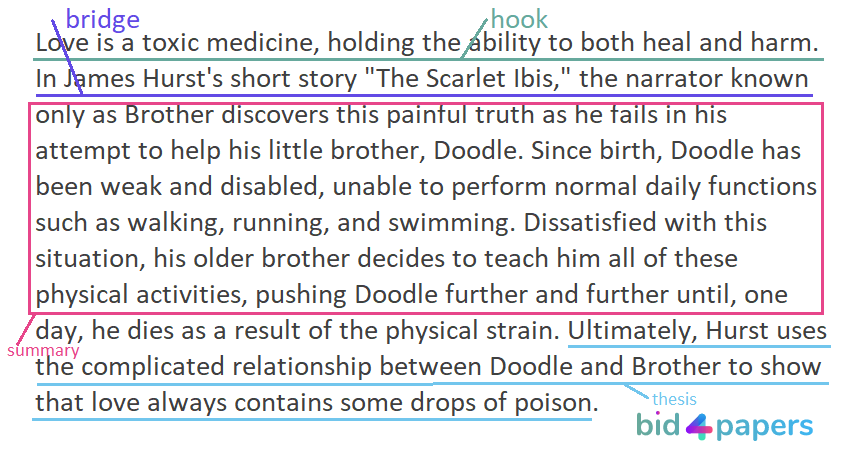 Third, check the example from the University of Newcastle experts. They took the assignment, such as "Discuss how media can influence children. Use specific examples to support your view," and that's what they have: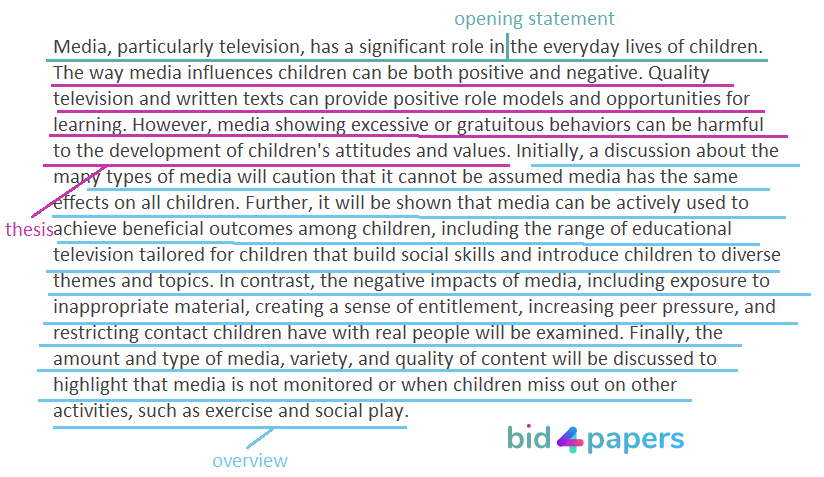 Frankly speaking, we disagree a bit with the type of hook they used: It's a too general statement, not intriguing enough for a reader to become curious about the details. Also, this essay introduction could be shorter: Its outline part reveals the details about the arguments a student will use in the essay body. We would also avoid passive voice in this introduction.
But despite tiny nuances, this introduction is an excellent example to get the idea of how to start an essay.
And finally, what about the essay introduction example from the University of Leicester? They address the topic, "What is the importance of imitation in early child development?"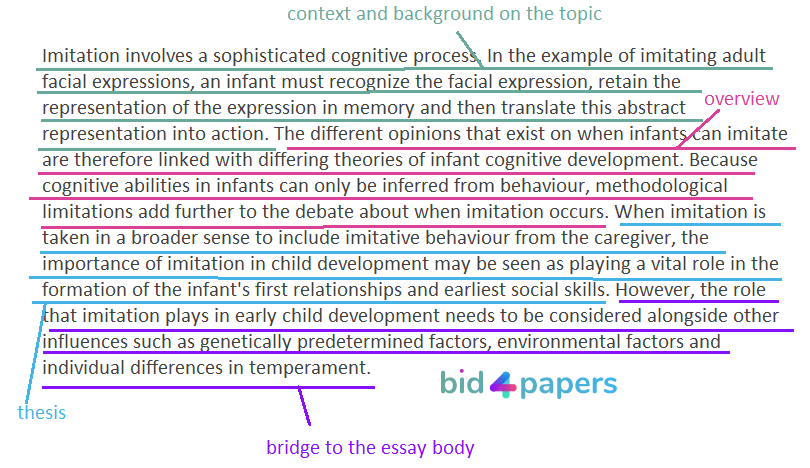 FAQ oh How to Write an Essay Introduction
Our writers get tons of questions from students on essay introduction writing. We've taken the top five most frequently asked, and here go the answers:
How to write an introduction paragraph for an essay?
An introductory paragraph of your essay needs to have the following elements: a hook, a thesis, and a summary of what you're going to discuss. Be concise, keep your summary brief (no more than three sentences), and make sure your thesis is clear and including the subject of the essay and your opinion on the topic.
How to start an essay introduction?
The first sentence of your essay introduction is a hook. It's a so-called attention grabber, allowing you to get readers interested in your essay topic. Types of essay hooks are many, but the most popular ones include a famous quote (relevant and rare; avoid too distinct variants which are overused and boring), a metaphor, and some interesting fact or shocking statement.
How many sentences should be in a paragraph?
An average length of your introductory paragraph is five sentences: one for a hook, two or three for a summary (overview), and one for a thesis statement.
How to write a research paper introduction?
As well as any other essay introduction, the one for a research paper should include a context (introduce your topic and tell about the research you are going to cover) and a thesis (state your hypothesis and rationale). Also, add a sentence about why this research is essential.
Here goes the structure of a research paper introduction from Wordvice: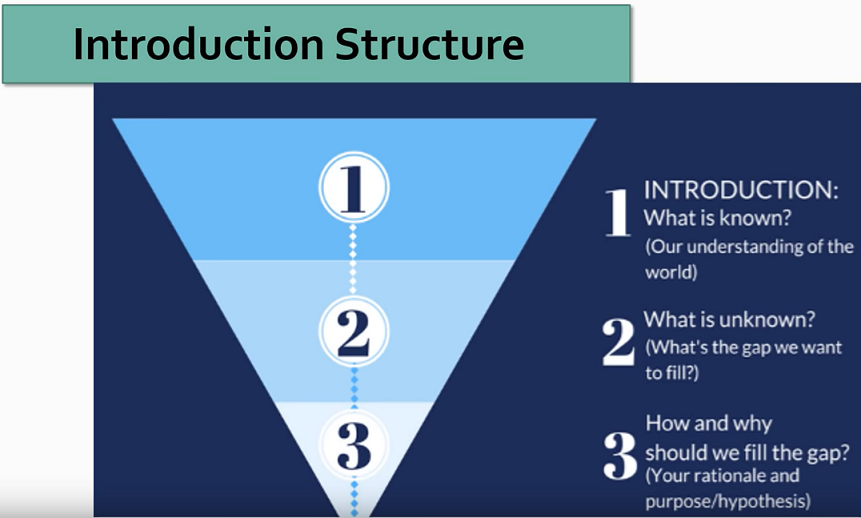 How to start a college essay about yourself?
In personal essays, your main goal in introductions is to hook readers and get them interested in your story. That is why focus on a killer first sentence. Ethan Sawyer, aka College Essay Guy, shares nine creative techniques on how to start a college essay, and you might want to consider some of them. For example, start a personal essay with a strange fact about yourself, a confession, a philosophical question, or a shocking image.
Your Checklist on How to Start a College Essay
So, let's make this long story short. Here goes your step-by-step checklist on writing essay introductions:
The first sentence has a hook: It's engaging, attention-grabbing, and relevant to the topic of your essay.
You've introduced the topic with necessary terms and background information: It's clear, logical, and not boring for readers.
You've stated a thesis: It shows the essay focus and explains your position on the issue.
The essay introduction is around 5-6 sentences: one – for a hook, two or three – for a background, and one or two – for a thesis and, if necessary, a bridge to the essay body.
Everything in your introductory paragraph is relevant to the body of your essay.
And now, over to you:
Are there any tips or practical tricks you have on how to start a college essay? Share with your peers in the comments! And remember – you can always use a pro essay maker to get a good example 😉