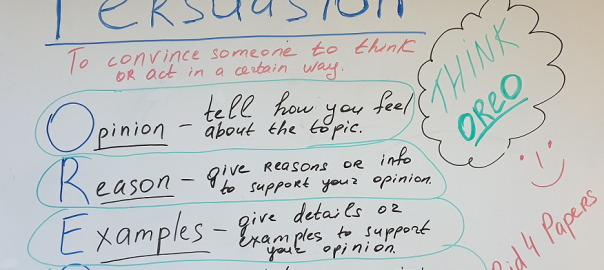 Persuasive Articles: Analyzing the Structure
How to write a persuasive article:
State your issue and point of view.
Use the best arguments and evidence you have.
Be logical and consistent.
Use influential language (power words, persuasive writing techniques, transitions).
Write in present tense.
With tons of persuasive essays to write in college, you want to understand this concept better, right? Persuasive articles are among the most common writing types to convince readers of a writer's opinion, so they have a definite structure and language units to communicate arguments.
And while some persuasive articles (political speeches or argumentative essays in newspapers) try hard to make the audience act, persuasive essays you write in college share arguments with readers to prove them your point of view.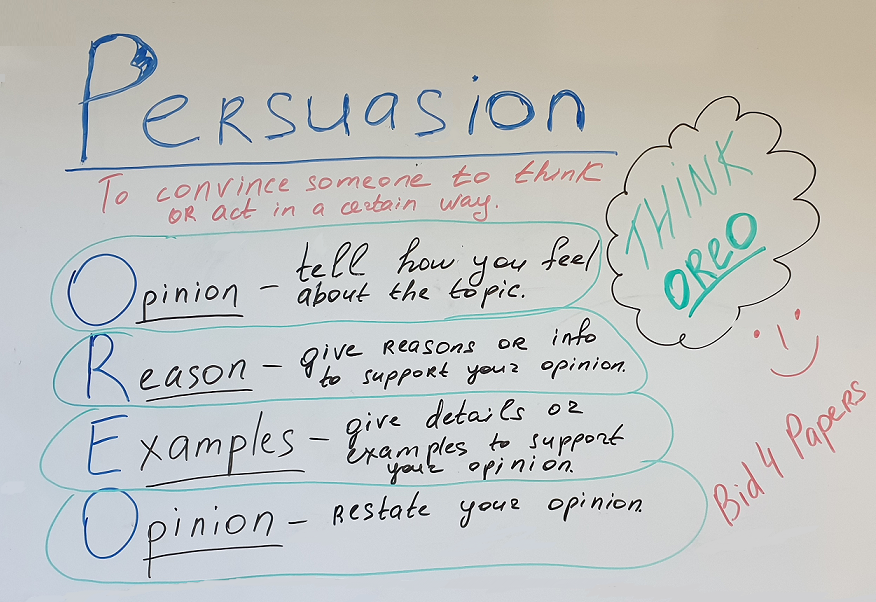 We believe you've checked our long read on how to write a persuasive essay already. Now, let's take a look at the structure of a persuasive article to understand what tricks make it… well, persuasive.
Persuasive Articles: The Structure
In plain English, persuasive writing is an essay that offers a polemical opinion and provides an argument and evidence to prove it. When writing it, you want the audience to agree with you, so your task is to convince them.
All persuasive essay examples demonstrate that the structure of such articles reminds a standard five-paragraph essay:
You need to write an introduction.
Then, write 2-3 paragraphs with arguments and counterarguments (remember about the evidence to include).
And finally, finish the essay with a conclusion.
To make it easier for you, here goes a template you can use when writing a persuasive article. Fill it in, and the detailed outline for your essay is ready.
Persuasive Essay Template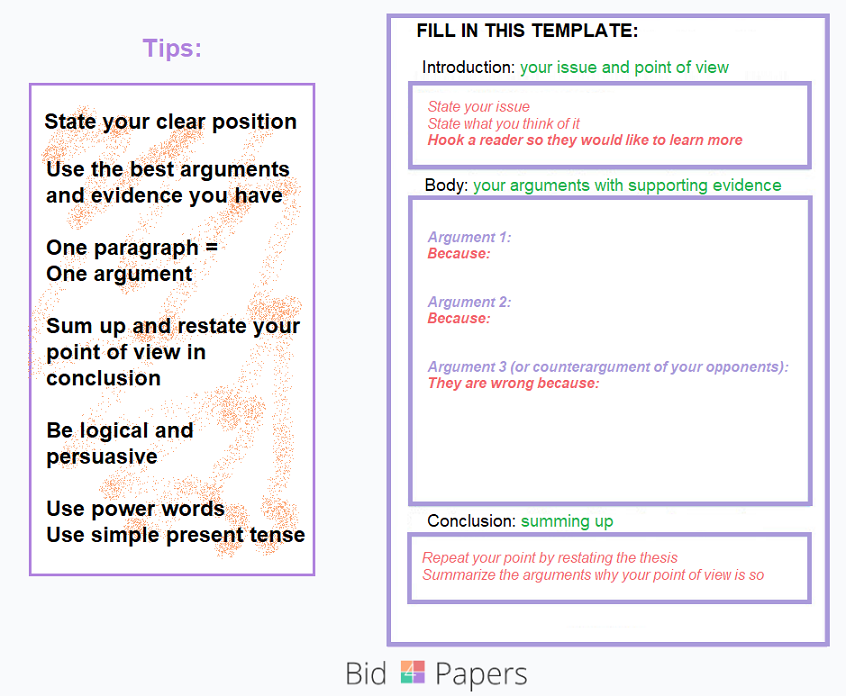 Persuasive Articles: The Language
Yes, the structure of persuasive articles is simple. But, as far as you understand, it's not what makes them so convincing. Clear yet emotional language, concise writing style, power words that reinforce a writer's opinion with facts and evidence – that's only a few persuasive writing techniques to use when structuring your essay.
A persuasive article is a mix of emotive language, critical thinking, and successful arguments with hard evidence. To convince the audience, you need to write an essay with particular words, phrases, and persuasive writing techniques in mind.
Persuasive Writing Techniques
Persuasive essays are those written with the right combination of emotional and rational elements in mind. Writers appeal to logic and emotions, which makes their texts sound reasonable and credible.
The basic strategies, also known as the rhetorical triangle, to use for that are:
Logos: logic and facts to persuade the audience.
Ethos: credibility and expertise (appealing to big names and their reputation) to persuade the audience.
Pathos: emotional language to persuade the audience.
For these elements to sound persuasive in writing, authors use techniques such as clarity, consistency, repetition, specific and precise language, calls to actions, power words, etc. All they help to make texts more interesting and memorable.
Carefully-chosen words do wonders. We bet you heard of Robert Cialdini and his principles of persuasion: commonly used in marketing texts to influence buying decisions, they work for other writing styles too.
Top blogger and storyteller, Jon Morrow described power words like this:

Jon Morrow,
CEO of SmartBlogger.com
"Power words are persuasive, emotional words that trigger a positive or negative response. They can make us feel scared, encouraged, aroused, angry, greedy, safe, or curious. Authors, copywriters, and content marketers use "power words" to spice up their content and compel audience to take action."
In his article, Jon shares the fragment of Winston Churchill's speech (with power words underlined) to illustrate how carefully-chosen words can turn a text into persuasive writing.
We have before us an ordeal of the most grievous kind. We have before us many, many long months of struggle and of suffering. You ask, what is our policy? I can say: It is to wage war, by sea, land and air, with all our might and with all the strength that God can give us; to wage war against a monstrous tyranny, never surpassed in the dark, lamentable catalogue of human crime. That is our policy. You ask, what is our aim? I can answer in one word: It is victory, victory at all costs, victory in spite of all terror, victory, however long and hard the road may be; for without victory, there is no survival.
So, don't forget about persuasive writing techniques when structuring your essay.
Words and Phrases to Use
As you see, vocabulary matters in persuasive writing. Sure enough, you can't use all power words at once. And you shouldn't use too difficult language and long sentences with vague phrases. Plus, too emotional phrases won't work well in academic writing.
Too many can'ts and don'ts, huh?
No worries! Once you've figured out the persuasive writing techniques for your essay, feel free to choose among these words and transitional phrases to include. They will help to describe relationships between the arguments in your essay and demonstrate how much you believe in what you're writing.
Introduce:
There is no doubt that…
I question whether…
From where I stand…
In my point of view…
It is clear that…
It is my belief that…
Illustrate the point:
For instance…
Specifically…
In particular…
Namely…
Such as…
Like…
Introduce an example:
Thus…
As an example…
In other words…
To illustrate…
For example…
In fact…
As evidence…
In support of this…
Examples include…
Make a suggestion:
To this end…
Keeping this in mind…
For this purpose…
Therefore…
Support the opinion:
First, Second, Third…
Furthermore…
Besides…
In addition…
In the first place…
Similarly…
Equally important…
Moreover…
Also…
Compare and contrast:
Compared to…
On the other hand…
Although…
Even though…
Likewise…
On the contrary…
As opposed to…
Rather than…
As well as…
Nevertheless…
All are…
Conversely
Whether or not
In spite of…
Yet…
Conversely…
Conclude:
As you can see…
To be sure…
In any case…
For the reasons above…
To be sure…
In other words…
On the whole…
With this in mind…
As a result of…
Because of this…
For this reason…
Since…
In short…
More words to use in persuasive essays are here.
3 strategies for writing a persuasive article
The right example of persuasive text will necessarily be built on a certain strategy, which experts in writing are ready to tell you about right now. Bid4Papers authors developed several successful formulas to help you cope with the task or at least make it easier. It is necessary to stick to one of the options or all of them at once:
Ask questions. You can base your entire research paper on working with readers who need to ask questions. Thanks to this, you can attract attention and emphasize the most essential parts of the text. In addition, such questions help simultaneously reveal the topic from two sides and pay attention to the right one.
Create a belief map. Teachers may have told you that this methodology is not new at all. The essence is to place each argument on a map. You list your arguments, then add evidence and then examples. This format allows you to create a clear, logical line and not get confused by the facts used.
Speak directly. You have a unique opportunity to speak directly to your readers so that you can get quality feedback. Try using the word "you" and address by asking or repeating individual arguments. Doing so creates the impression of a conversation between two people. The main thing is not to overdo it and only use the method where it is appropriate.
Such persuasive writing samples look the best, thanks to which you will be able to form and present your thoughts correctly and to your readers. Try to use the method of repeating your arguments as well. Emphasize the essential parts of your essay in this way so that readers can understand your train of thought accurately. You can paraphrase to make the text look even better and more convincing.
What should not be included in a persuasive article?
A good persuasion essay example will also be characterized by the fact that it will not contain certain elements. These include several:
hyperbole. You should not overemphasize the importance of specific arguments, statistics, and the rest. You should not try to gain the reader's trust by dramatic effect;
don't use your first person. You may address your readers, but writing about yourself is prohibited. It is inappropriate and creates a personal impression rather than an authoritative academic paper;
do not be rude or angry. You should be polite and work with your argument rather than pushing the opposite side and being rude. This attitude can damage your status as an authoritative author.
It is also advisable not to overlook the importance of the other side's arguments. Only on their basis will you be able to build a sufficiently convincing research paper and properly present it to the readers and the teacher.
Writing Tips to Follow
Besides power words and relevant transitional phrases, the structure of persuasive articles involves a writing style and tone of voice that would make it sound credible and convincing enough for the audience to believe it.
For that, it needs to be brief and concise, clear and argumentative, punchy and to the point. Consider these tips when thinking about how to write a persuasive essay:
Use active voice and Simple Present tense.
Use straightforward language, and don't leave any doubts about your point of view.
Make sure to find strong and up-to-date evidence to support arguments in your persuasive essay.
One paragraph = one argument.
Use power words and strong transitional phrases to convince readers.
Use descriptive language (emotive adjectives and adverbs) if relevant, but don't go crazy. Stay brief and rational.
Still wonder what the structure of a persuasive article looks?
Check these samples of elementary persuasive essays from students or ask us to write a sample essay to use for illustrative purposes next time a teacher assigns such a paper to you.