How to Write a Critique of a Novel
Last updated: April 2017
When assigned to write a critique of a novel, be sure you understand the specification of this task: writing a critique and writing a review are far from the same.
What is the difference?
A book review = its summary aimed at telling readers about the plot.
A book (novel) critique = its analysis aimed at critical responding and evaluating its quality.
As far as most specialists agree on reading is the best way of gaining knowledge, professors assign critique writings to students on the regs. Such tasks allow enhancing the brain functions and critical thinking, encourage youngsters to read books, and help them shape an opinion on literary works.
A critique of a novel is a type of college papers that gives a critical assessment of literary works. It's a systematic analysis discussing a book's validity and evaluating its worth. A critique is not about information but analysis and persuasion.
Also known as a critical response, this writing argues whether a novel is worth reading and why. In other words, your critique of a novel should discuss:
a book's thesis and major argument
a book's style
a reviewer's (your) comments and assumptions
How to Write a Good Critique Paper
As well as all academic papers, a critique has its structure: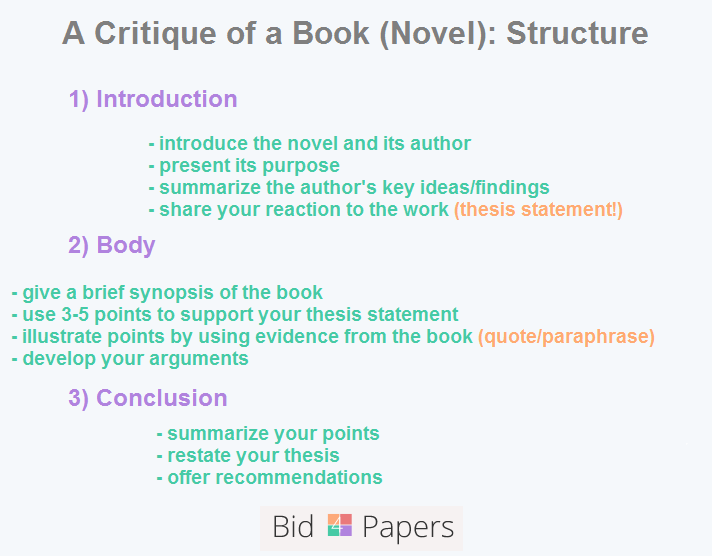 It should include:
An introduction with a clear thesis statement.
A body with your synopsis and arguments.
A conclusion with your points summary and thesis restatement.
Easier said than done.
One can't simply sit and write an essay. (Okay, our writers can.) To come up with an A+ critique, be sure to consider the following steps.
Before Writing a Critique
No matter if it was a teacher who assigned a particular novel for you to criticize or you had a freedom of choice here, you'll need to do research and create a detailed outline before writing a critique itself.
Say you've got a book to criticize in your essay. What's next?
Read the novel, taking notes of its main points.
While reading, write a brief summary for each section.
Determine the author's core statement.
Read some reviews of the novel to get a better idea of its content and message.
Make notes from those reviews. (You can use them for arguments afterward.)
Formulate your thesis.
Make sure that you don't plagiarize it from other reviewers.
Come up with 3-5 arguments for your thesis.
Search for relevant references to support your thesis and arguments.
Find evidence from the novel and write a detailed outline of your critique.
To smooth things down for you, we've prepared the free checklist of questions you can use as a guide for writing a critique. Get it right now to make sure you haven't missed anything.
Once your research and outline are ready, it's time to start writing the first draft of your critique. Be sure your outline relates to the thesis, and you've organized each section coherently.
Introduction
The easiest part of writing, an introduction contains basic information about a book: its author, title, topic, and key ideas. Also, present the essay purpose and your reaction to the novel: the latter will be your thesis statement.
With all that said, the introduction of your critique might be as follows:
Sentence 1: A book's author + its title + the main idea. Be objective and use so-called evaluative verbs to power your writing.
Sentence 2: A book's summary + its aim (key argument). Keep it neutral and try avoiding specific details.
Sentence 3: A brief statement of your evaluation. The transitional thesis is the last sentence of your introduction, and it can be positive-positive or positive-negative.
Depending on a literary work you criticize, the essay introduction may be 1-2 sentences or… 1-3 paragraphs.
Body
No strict rules exist for the number of paragraphs you should write in a critique's body. It depends on your assignment's specifics and a novel you need to evaluate. Taking a standard 5-paragraph essay as a basis, let's say your critique will consist of three paragraphs.
Points to consider while writing:
Organization. Depending on the approach, you can arrange paragraphs by points, strengths vs. weaknesses, or theme. Remember that the aim of your work is not merely criticizing a book in a negative way but also point out what its author did well.
Writing techniques and style. Evaluating a novel, don't forget to mention these points. Discuss how effectively (or not) the author used stylistic choices to promote his/her ideas.
Evidence. Describe what types of arguments the author used. Were they logical and appropriate? Don't forget to explain why the evidence supports your point.
Usefulness. Discuss what the novel adds to its topic understanding. Is it overall useful? Does it present ideas in original and engaging ways? How does it consider key concepts in society?
Examples. You should support each point of your critique with examples. For instance, you can't simply write that a novel was dull but provide a quote as evidence and explain why it does not appeal to you.
Language patterns you use for writing a critique matter, either. Be sure to use reporting verbs and phrases, modality, and concessive clauses.
And that's what David Taylor, senior advisor from UMUC, determines as evaluative criteria for writing a critique: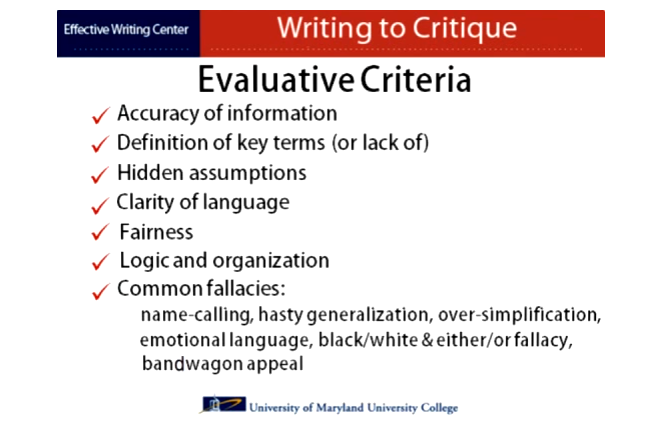 Conclusion
The final part of your essay, this is a paragraph where you summarize and qualify judgments, as well as offer your recommendations on a book.
Answer the questions:
Do you agree with the author? Why, or why not?
What is the overall opinion on this novel?
Be specific. Remind readers the importance of a literary work you criticized, focus on its strengths and weaknesses, and state what you believe is its ultimate success.
Here comes the critique's sample, kindly provided by OWLL for you to understand the specification of such tasks.
And don't forget about one more detail able to turn your essay into an A+ academic paper.
Format
A critique of a novel has clear style guidelines for students to adhere while writing, which are:
Typed, double-spaced, on one side of a paper
One-inch margins on all sides
All pages numbered (except the first one)
Turabian or Chicago citation style
No first-person (except referring to your opinion)
Active voice
A new paragraph each time you change the point
Content and grammar are of equal importance here. If a reader doesn't understand your sentence structure, they won't be able to follow your argument. That's why revise and proofread your essay but don't rely much on spell-checkers, as they often miss even the most obvious spelling mistakes.
Instead, ask someone to proofread your work and revise it accordingly. Or, contact our editors for help.
image source: flickr