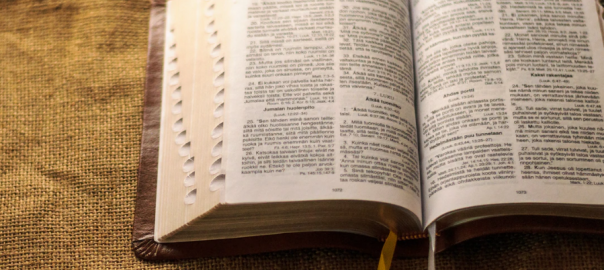 How to Write a Book Critique Like a Professional
Last updated: November 2019
First and foremost, let's define critique:
Critique is a detailed analysis and assessment of something. In college writing, it's an essay type that analyzes and evaluates a book or an article.
Do not confuse book critique and book reviews! When assigned to write a critique essay, you need to analyze a book (or an article) rather than summarize and retell its contents.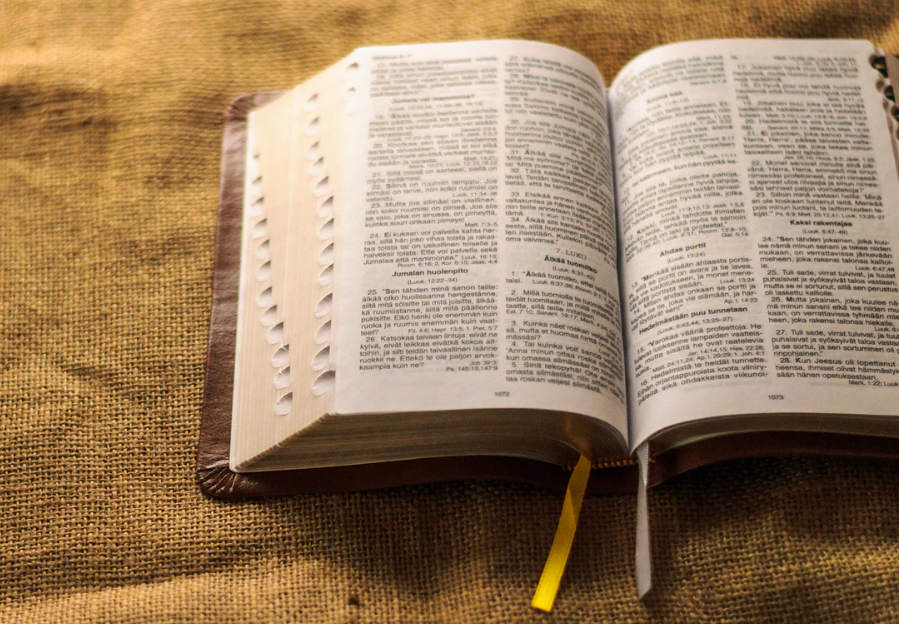 In other words, it's not about information but analysis and persuasion. When writing a critique paper, you enhance brain functions and critical thinking. And teachers assign such tasks to encourage students to read books and help them shape an opinion on literary works.
Ready to learn how to write a book critique like a boss?
What is a Critique?
When assigned to write a critique, don't hurry up to fly to a pen or a keyboard. First, make sure you understand the critique meaning and the specification of this task.
Critique is a detailed analysis and assessment of something: a book, an article, a political or philosophical theory, etc.
To define critique, remember that it's not the same with a review. And here's the difference:
A book review = its summary aimed at telling readers about the plot.
A book critique = its analysis aimed at critical responding and evaluating its quality.
When writing a critique paper, you need to give an assessment of literary works. It's a systematic analysis discussing a book's validity and evaluating its worth. Also known as a critical response, this type of writing argues whether a book is worth reading and why. In other words, your paper should discuss:
a book's thesis and major argument
a book's style
a reviewer's (your) comments and assumptions on the book
Critique synonyms are analysis, evaluation, discourse, assessment, commentary, opinion, or study.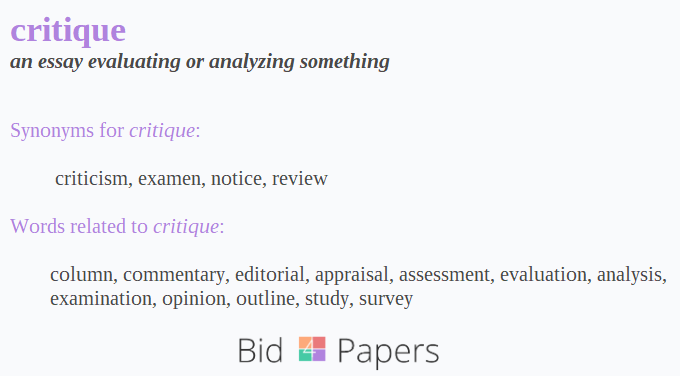 Types of Critique
No matter what written work you need to critique, you'll conduct its systematic analysis, describe its strengths and weaknesses, and decide on a strategy to use for critiquing.
The most common types of critique you'll meet in college:
A book critique. Here you'll need to describe its contents, summarize the book's strong and weak points, and provide a recommendation for the audience: to read or not to read this book.
An article summary (critique). Here you'll review an article, discuss its key concepts, and analyze if it's of value for the field.
For a paper to sound professional, you need to choose and adhere to a language strategy for stating your points.
If you offer praise or criticism, use modal words and expressions, consider qualifying adjectives and adverbs, and remember about tentative verbs.
Examples (source):
The approach of an online orientation program could be useful for students as it would allow them to have important information at their fingertips, regardless of if they are on campus or not.
Significant results were noted in the results of this study, but there are limitations to these findings.
This article focused on an important topic within higher education, as administrators need to find solutions to improve retention.
If you offer suggestions on what could be done for a book or an article to look better, consider conditional verb forms such as "would… if…" and "would have been… if."
Example (source):
Bolland's dialectical analysis of Creole society would be put to test if the antagonisms he identifies were examined in the context of a Hispanic environment.
How to Write a Book Critique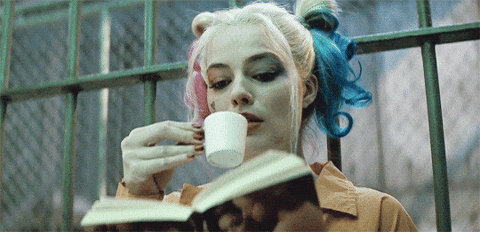 Your analysis needs to cover aspects such as the author's competence and credentials, their writing style, the use and interpretation of evidence, and any gaps in the content. In other words, you analyze all elements that might influence the reader's understanding of the book and its overall effectiveness.
As well as any other type of academic paper, a critique has its structure. It should include:
An introduction with a clear thesis statement.
A body with your synopsis and arguments.
A conclusion with your article summary and thesis restatement.
So, let's get right to it. Here's how to write a critique essay that's worth A+.
What to do before writing
No matter if it was a teacher who assigned a particular book for you to analyze or you had a freedom of choice here, you'll need to do research and craft a detailed essay outline before writing.
Say you've got a book to assess in your essay. What's next?
Read the book, taking notes of its main points.
While reading, write a brief summary for each section.
Determine the author's core statement.
Read some reviews of the book to get a better idea of its content and message.
Make notes from those reviews. (You can use them for arguments afterward.)
Make sure that you don't plagiarize it from other reviewers.
Come up with 3-5 arguments for your thesis.
Search for relevant references to support your thesis and arguments.
Find evidence from the book and write a detailed outline of your critique.
That's a suggested outline for your work: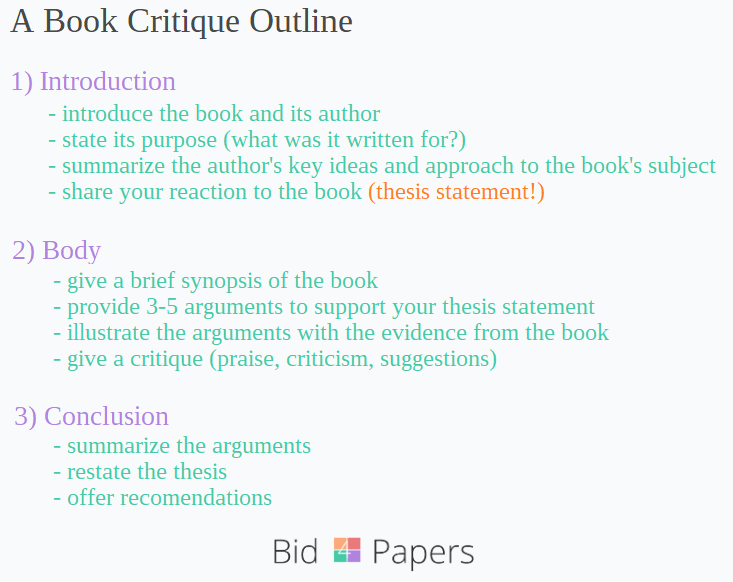 Once ready, it's time to start writing the first draft. Be sure your outline relates to the thesis, and you've organized each section coherently.
How to start a critique
This one is the easiest part of critique writing because it reminds a summary of a book. Your introduction includes basic information: the book's title, author, topic, and core ideas. Also, hook a reader by stating your essay's purpose and your reaction to the book (it will be your thesis statement).
With this in mind, the introduction might be as follows:
Sentence 1: A book's author + its title + the main idea. Be objective, and use so-called evaluative verbs to power your writing.
Sentence 2: A book's summary + its purpose (a core argument). Stay unbiased and avoid details.
Sentence 3: A brief statement of your evaluation. It can be positive-positive (when you want to praise a book) or positive-negative (when you want to criticize it and offer suggestions on what might be done better there).
Depending on a literary work you criticize, the essay introduction may consist of 1-2 sentences or 1-3 paragraphs.
A body of your critique paper
No strict rules exist for how to critique and how many paragraphs to write in your paper's body. It depends on your task's requirements and a book you evaluate. With a standard 5-paragraph essay structure, let's say a body of your critique paper will consist of three paragraphs.
Points to consider while writing:
Organization. Depending on the approach, you can arrange paragraphs by points, strengths vs. weaknesses, or topics. Your goal isn't to just negatively criticize a book but also point out what the author did well.
Writing techniques and style. Evaluating a book, don't forget to mention these points. Discuss how effectively (or not) the author used stylistic devices to prove their ideas.
Evidence. Describe what types of arguments the author used. Were they logical and appropriate? Don't forget to explain why the evidence supports your point.
Usefulness. Discuss what the book adds to understanding its topic. Is it useful? Does it present ideas in original and engaging ways? How does it address the core aspects of society?
Examples. Support every argument of your critique with examples. You can't just write that the book was boring; provide a quote as evidence and explain why it does not appeal to you.
And that's what David Taylor, senior advisor from UMUC, determines as evaluative criteria for how to critique: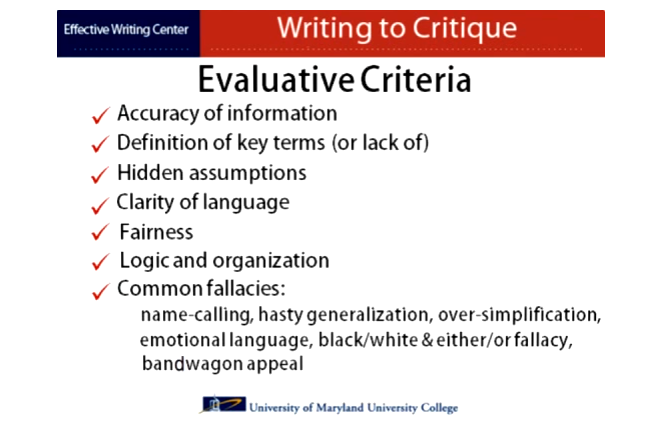 How to write a conclusion
The final part of your paper, this is a paragraph where you summarize and qualify judgments, as well as offer your recommendations on a book.
Writing your essay conclusion, answer the questions:
Do you agree with the author? Why, or why not?
What is the overall opinion on this book?
Be specific. Remind readers of the importance of a literary work you criticized, focus on its strengths and weaknesses, and state what you consider its ultimate success.
The same approach works for those asking how to write analytical book review an article.
How to Critique an Article
An article review of a book essay is a paper when you summarize and evaluate a piece of research, specifying its strengths and weaknesses.
Unlike with a review, the main focus here is on your analysis, not a narrative of what the article is about.
As well as a book critique, an article one consists of:
An introduction. Here you write about the article's title, author, and the main point, also stating your thesis that will preview your analysis.
An article summary. In short, introduce the arguments and the findings of the article.
A critique itself. Discuss the article's pros and cons, and state your opinion about its clarity and accuracy. Use the data and examples from the article to support your arguments.
A conclusion. Summarize the article as well as key points from your analysis and comment about why such research matters or what else needs to be researched in the field.
Article summary example:

Taken from OCCC.edu
The Format of Your Paper
This essay type has clear style guidelines for students to adhere while writing, which are:
Typed, double-spaced, on one side of a paper
One-inch margins on all sides
All pages numbered (except the first one)
Turabian or Chicago citation style
No first-person (except referring to your opinion)
Active voice
A new paragraph each time you change the point
Content and grammar are of equal importance here. If a reader doesn't understand your sentence structure, they won't be able to follow your argument. That's why revise and proofread your essay but don't rely much on spell-checkers, as they often miss even the most obvious spelling mistakes.
Instead, ask someone to proofread your work and revise it accordingly. Or, chat with our essay writers for help.
Critique Examples
That's all well and fine, but are there any examples of how to write a critical book review ?
 Here go samples for your consideration.
 (Note! Samples are aimed for assistance purposes only: don't plagiarize them and don't copy their parts to use in own papers.)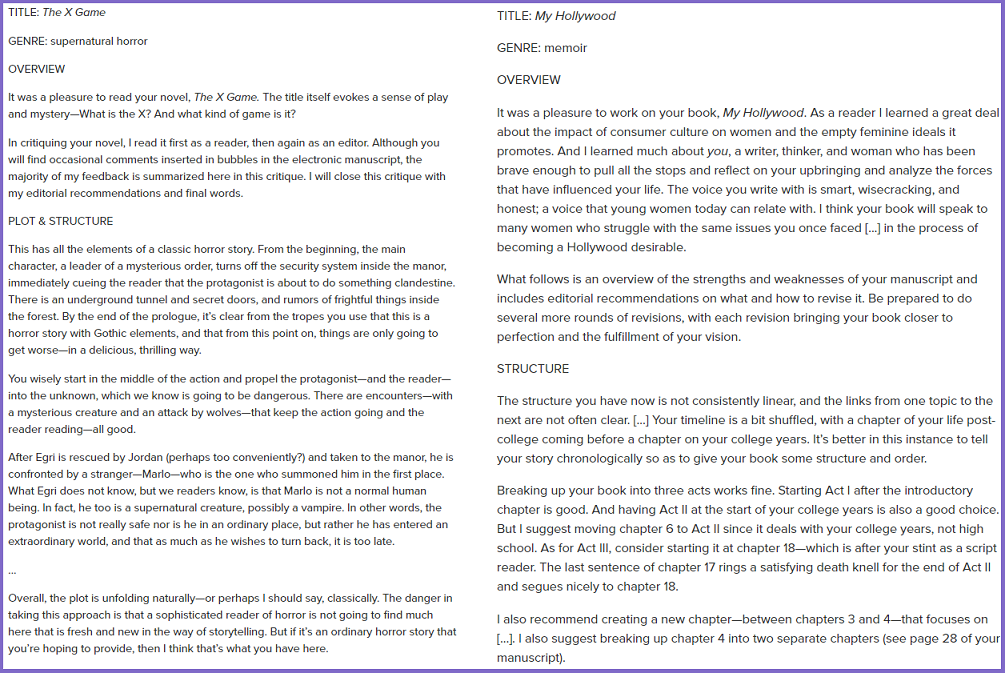 Taken from The Artful Editor
And here go additional resources for you to check when you need the information on how to write:
Your Checklist for Writing a Critique
Answer these questions to make sure you have enough data for writing a book evaluation: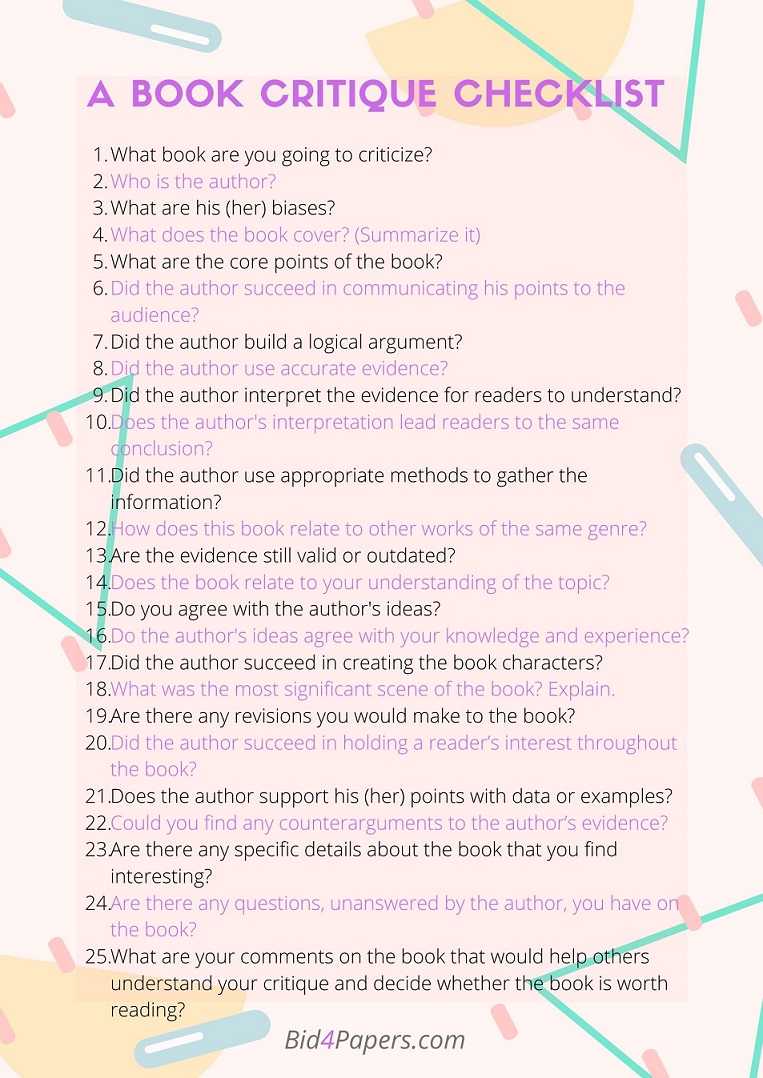 To smooth things down, just save this checklist to make sure you haven't missed anything – and refer to it every time you need a guide for writing a book critical analysis.
Ready to start writing? Essay maker is an amazing tool to help you write an essay quickly and efficiently. With it, you can create an incredible essay in no time!