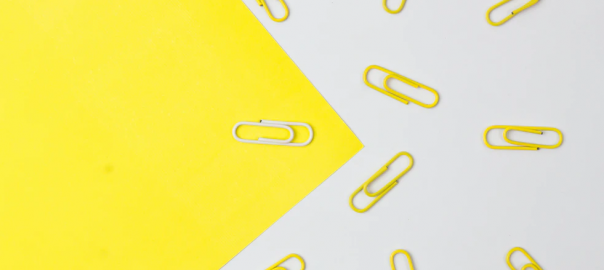 How to Write an Argumentative Essay: The Only Guide You Need
An argumentative essay is a paper that uses facts and evidence to support the thesis it's making. A student investigates a topic, establishes a position on it, and provides arguments to persuade the reader to agree with this position.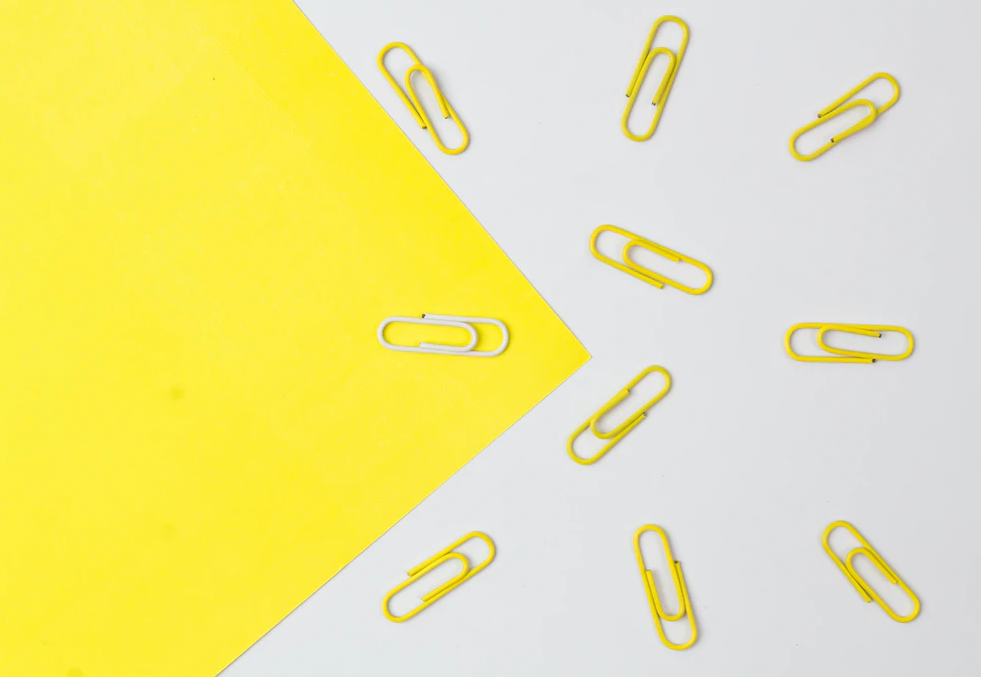 An argumentative essay is the most popular type of academic writing in school and college. But the more you write, the more questions remain on how to write an argumentative essay because of tons of details to consider.
Our professional writers craft dozens of argumentative essays daily. So we asked them to answer all your FAQs and share expert tips to help you polish argumentative essay writing skills once and for all.
And here it goes:
Your ultimate guide on writing argumentative essays, with topics to choose, claims to consider, structure to cover, and examples to check for getting a better idea of how to write an argumentative essay.
What Is an Argumentative Essay?
An argumentative essay is a type of academic writing where an author needs to present and prove their position on a specific topic.
The goal is to convince a reader that your position is correct. For that, you:
State a clear, persuasive thesis in your essay introduction.
Explain this thesis in the essay's body, using evidence and addressing counterarguments when appropriate.
Conclude by tieing all the main points together, showing why your argument matters, and leaving readers with a strong impression and food for thought.
Writing an argumentative essay is a typical assignment in schools and colleges. The goal is to teach you critical thinking, information research and evaluation, and meaningful thought expression. Every essay type in college is more or less argumentative.
Types of Claims in an Essay
Once you know what you want to argue, it will be easier to understand what argument types to choose and how to represent them. So, before you start writing an argumentative essay, you need to decide on a claim you'll use as a thesis statement.
What is a claim in an essay?
A claim is your opinion stated as if it's a fact. But for it to become a fact, you need to back up this claim with logic and evidence.
There's a difference between a claim and a fact-based statement that's obvious and not requiring any arguments to prove it. When choosing a claim for your argumentative essay, make sure it's not a mere statement.
Example: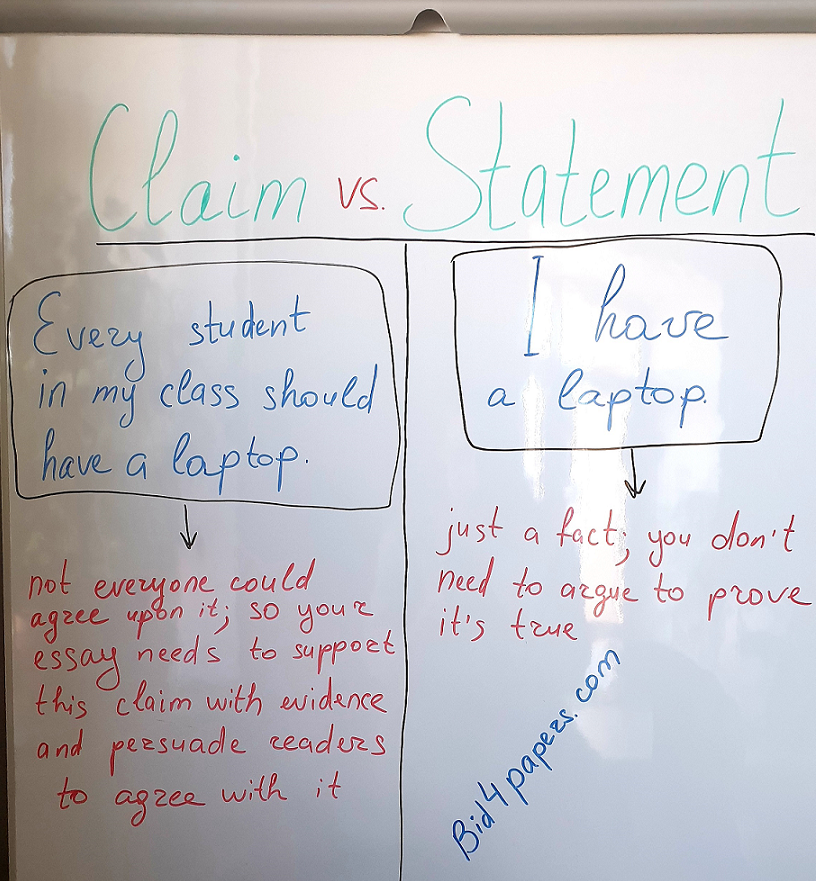 How to write a claim in essays?
Think of it as a thesis statement where you present the main idea of your essay in the form of an argument. You can format it like a fact, a definition, value, cause-effect, or a policy.
Fact: State something that's true or false.
Definition: Write a dictionary definition of what you want to argue and present your interpretation of it.
Value: Specify the importance of your claim.
Cause and effect: Explain what causes your claim and what impact it brings.
Policy: State why readers should care and what they need to do about your claim after reading the essay.
Whatever claim type you choose, your goal will be to argue for it in your argumentative essay effectively.
Types of Arguments in an Essay
Argumentation matters in this essay type most: You should be unbiased and rely on evidence and logic, not emotions, assumptions, or exaggeration.
Once you've decided on a claim and stated a thesis for your argumentative essay, think of the arguments type you'll use to prove it. Choosing them beforehand will help outline your essay accordingly.
Two main types of argumentation exist to represent in your essay: Toulmin and Rogerian. Both consist of four steps, and the first one is a common approach in academic writing. That's what they look like:
Toulmin arguments: Make a claim -> Provide the evidence -> Explain how it supports your claim -> Provide a rebuttal (opposing opinion) to show you've considered alternatives
Rogerian arguments: Discuss the opposing opinion and what it gets right -> Highlight the problem with this position -> Present your claim -> Suggest a compromise (what elements of your position could be beneficial for opponents)
Some experts specify one more type of argumentation in an essay: 
Classical (Aristotelian) arguments: Present an existed idea -> Make your claim on it -> Provide the evidence to convince that your opinion is the right one. 
This one is the most popular approach to making arguments in essays because it's simple yet effective. Here you don't bombard the reader with tons of information but outline facts clearly and concisely.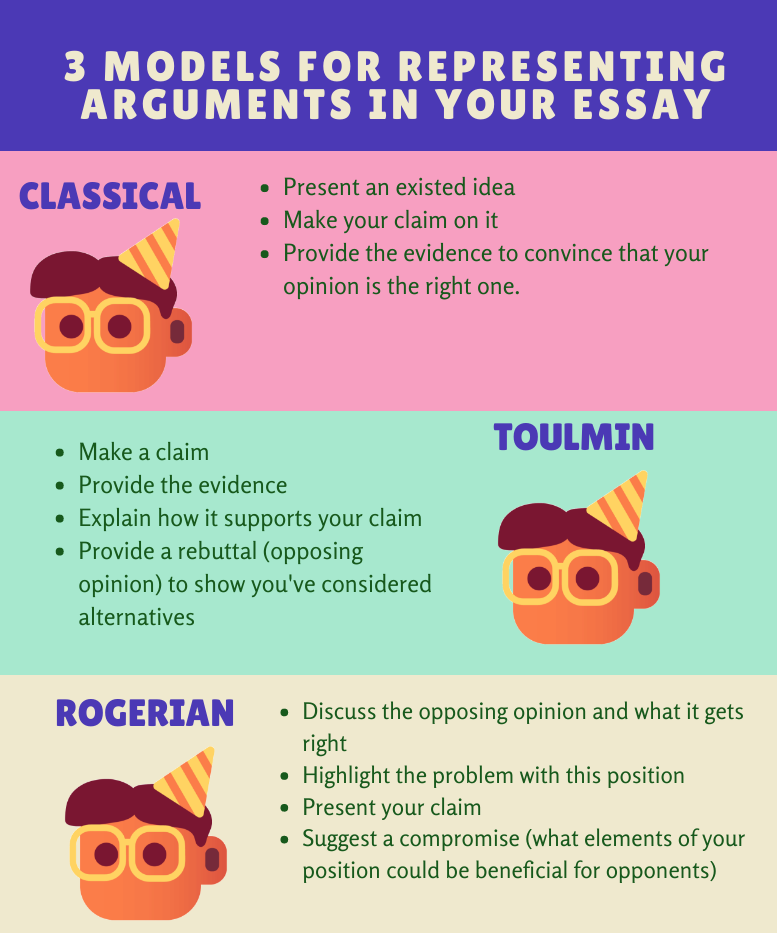 You are welcome to choose any of these three types of arguments for your essay. But whatever approach you take, your paper should have a clear structure: outlining and formatting it, you'll need to write an introduction, a body, and understand how to conclude an essay.
More on that below.
Getting Prepared for Writing an Argumentative Essay
OK, we believe that now you're ready to write your argumentative essay. But before you start writing an introduction, let's find out a few more critical elements to consider for your paper to become A-worthy:
How to choose good topics for your argumentative essay
What format to consider when writing argumentative essays
How to craft a stellar outline for your argumentative essay
Here we go!
Argumentative Essay Topics
Suppose a teacher hasn't assigned any particular topic for your argumentative essay. In that case, it means they want to check your critical thinking skills and give you a chance to choose writing about something that interests you.
Plus, the way you discuss arguments and prove your point of view allows a teacher to see your research, writing and analyzing skills.
Choosing good argumentative essay topics is often challenging for students because they aren't sure if what they decide is… well, argumentative enough to discuss in essays.
Good argumentative essay topics are those debatable (with at least two conflicting points of view), compelling, and with solid evidence. Also, it would help if your chosen topic was something of your interest:
Writing about something you know and what bothers you, it will be easier for you to shape arguments, decide on points, and find evidence for it.
Here go some tips that will help you choose topics for argumentative essays:
Write about something on what you have and can express your opinion.
Make sure you have enough arguments and evidence to support this topic in your writing.
Avoid issues that are too difficult to debate or those too emotionally charged. It can be challenging to discuss them with a clear mind.
Don't be afraid to take controversial topics that your peers would avoid.
Think of the audience who could read your essay: Would it be interesting for them to discuss your topic; what might they think of it? (It will help you decide on arguments to use to persuade them to agree with your position.)
Argumentative Essay Format
Keep in mind that the number of arguments and counterarguments you use in essays isn't hard-set. Feel free to change it if necessary: 
two arguments vs. one counterargument; 
three arguments vs. two counterarguments; 
one argument vs. one counterargument
— all are OK to consider unless your assignment states otherwise.
But given the structure of a standard 5-paragraph essay, let's leave our argumentative essay format at that: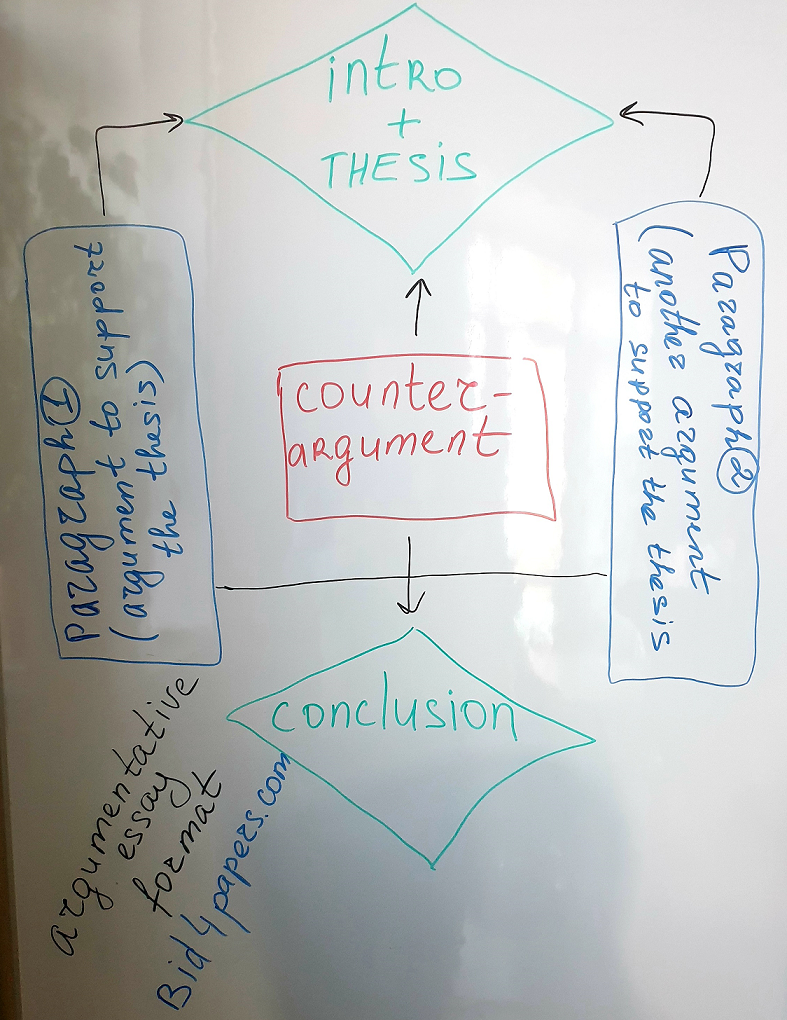 Introduction + thesis
1-st paragraph (here you'll use an argument to support the thesis)
2-nd paragraph (here goes another argument to support the thesis)
3-rd paragraph (counterargument)
Conclusion
Based on this format,  you can craft an outline for your argumentative essay.
Argumentative Essay Outline
Now that you've decided on your argumentative essay's topic and format, it's high time to write an outline.
It's a kind of plan for your essay:
With a detailed essay outline at hand, you won't miss anything from its structure. Also, it will be easier to write an essay: You can start with any paragraph, "building" your paper step by step.
Here's an argumentative essay outline template you can use: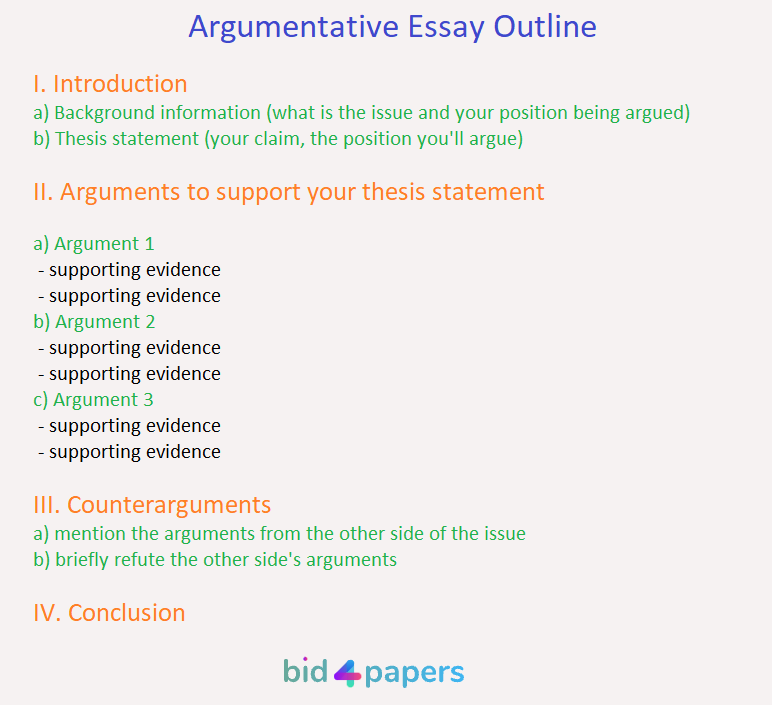 How to Write an Argumentative Essay: Step by Step
Finally, it's time to start writing an argumentative essay. Below is your detailed guide on how to write an argumentative essay step by step:
How to Start an Argumentative Essay
Like any other type of academic paper, an argumentative essay begins with an introduction. 
The essay introduction serves to hook a reader, provide background information on your issue, and present your thesis statement. In more extended essays, you can also use the introduction to summarize the structure of your paper.
Here's an example of how a typical argumentative essay introduction looks like (taken from Scribbr):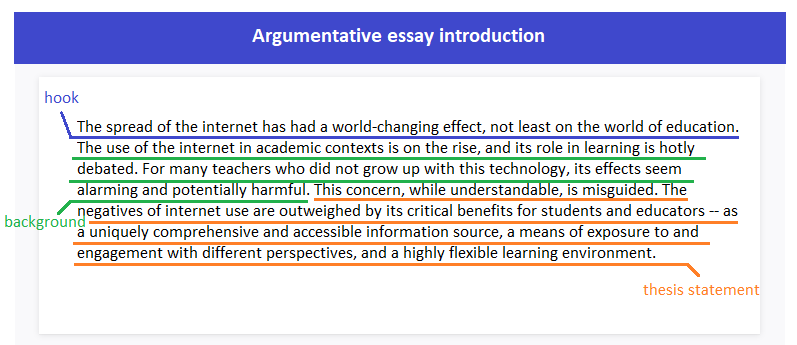 And here go your practical tips on how to start an argumentative essay:
First, consider the main issue and why people should care. You can use the BAM technique for that:
B — background: how you'll engage your reader. You can use a fact, quotation, or rhetorical question here, and it will serve as an essay hook.
A — argument, aka a brief explanation of your opinion. It's a thesis statement of your argumentative essay.
M — main points: here, you explain what you'll do in your essay. These main points will be the basis of your three topic sentences in your essay body paragraphs.
Here's the example: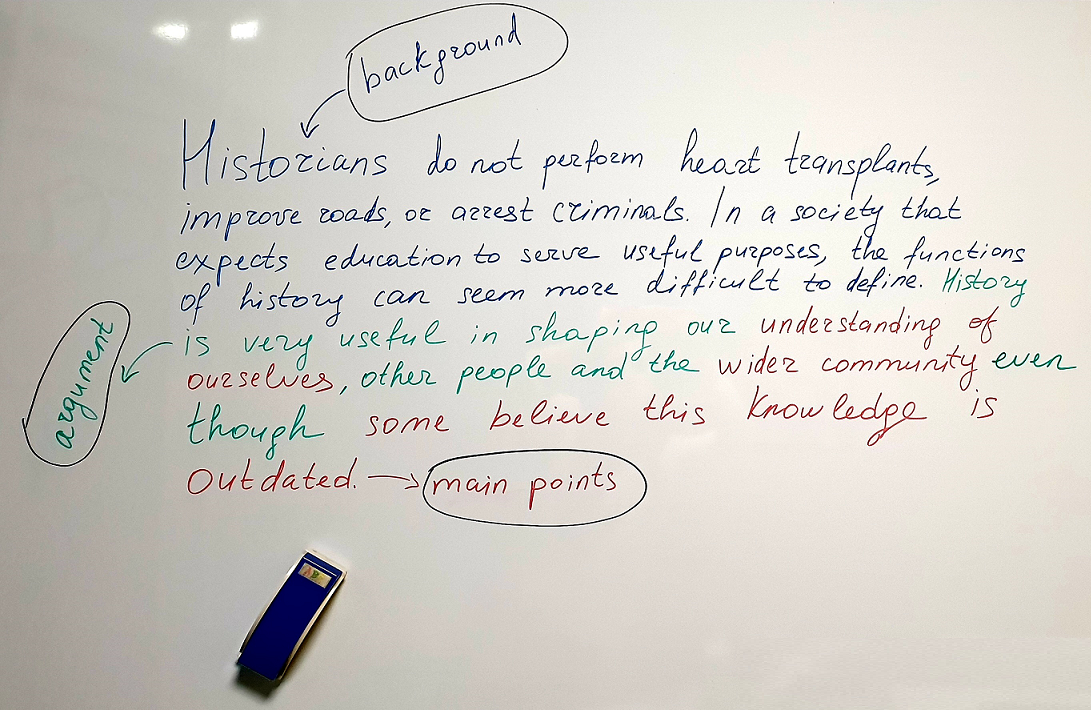 Second, generate your thesis statement. You have three methods for doing that:
Turn it into a question — and answer it.
State an argument that contrasts with your belief — and refute it.
Introduce your point — and briefly outline it.
Writing an Argumentative Essay
After the introduction, an essay body comes. That's where you'll develop your arguments, with each paragraph covering its own point and evidence to it.
NB! Each paragraph of your argumentative essay must contribute to your thesis, so please don't include any irrelevant information. Remember that your goal is to convince (persuade) the reader to agree with your claim.
In the standard 5-paragraph essay, your paper body will take three paragraphs: two — for arguments to support your claim, and one — for a counterargument. If you are going to write a more extended essay, the number of paragraphs can vary.
Points to remember when writing an argumentative essay:
One paragraph = one argument (idea)
Each paragraph shows the progression from a general statement (your topic sentence) to a more specific topic.
Forget about your creativity for a moment. Make sure you follow the structure of argumentative essay paragraphs precisely.
Use linkers to connect sentences for better coherence: "This shows," "however," "for example," "it's because," "more than that," and others.
Don't start sentences with words like "and," "because," "so," and "but." Use them as linkers within a sentence.
Try to keep each paragraph 4-5 sentences long. The PEEL structure can help with that: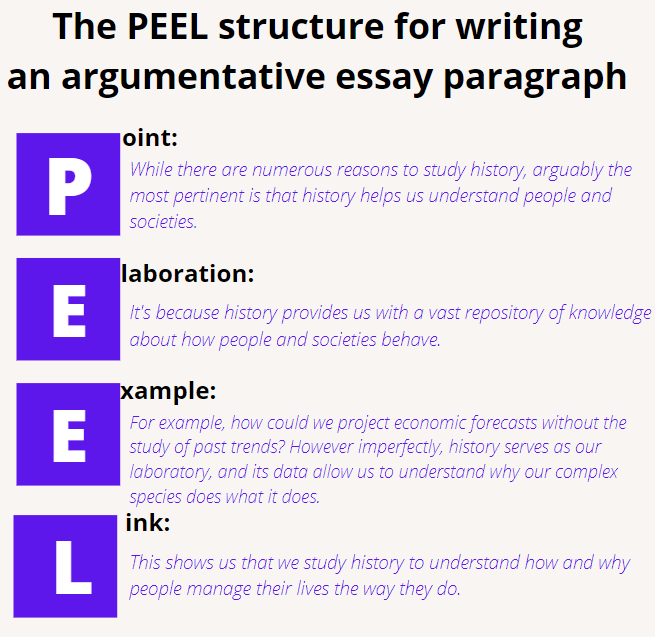 Point: your topic sentence summarizing the main idea of the paragraph.
Elaboration: the additional information you give to support the topic sentence; here, you explain why it's relevant to your essay question.
Example: your evidence to support the topic sentence. (Use a fact, a personal experience, or a description.)
Link: your link back to the topic sentence; it shows how your point answers the question. (You can use transition words or phrases here.)
How to Write a Conclusion for an Argumentative Essay
While some essay writing guides say it's OK to copy out the question or thesis statement in your conclusion, it's a wrong strategy. That's how to write a conclusion for an argumentative essay to get an A:
Start it with a linking phrase ("In conclusion," "To sum up," etc.)
Admit that the counterargument is partly true.
Restate your opinion and say why it's essential.
Recommend a future action to the reader or ask a hypothetical question. Some good ideas for the final sentence of your argumentative essay are a call to action or a rhetorical question.
Please don't conclude your essay with only one line, and don't copy out your introduction. Rephrase your thesis statement by using synonyms or changing word order. Your conclusion needs to be as long as your essay paragraphs were.
The example of rephrasing a thesis statement for your conclusion: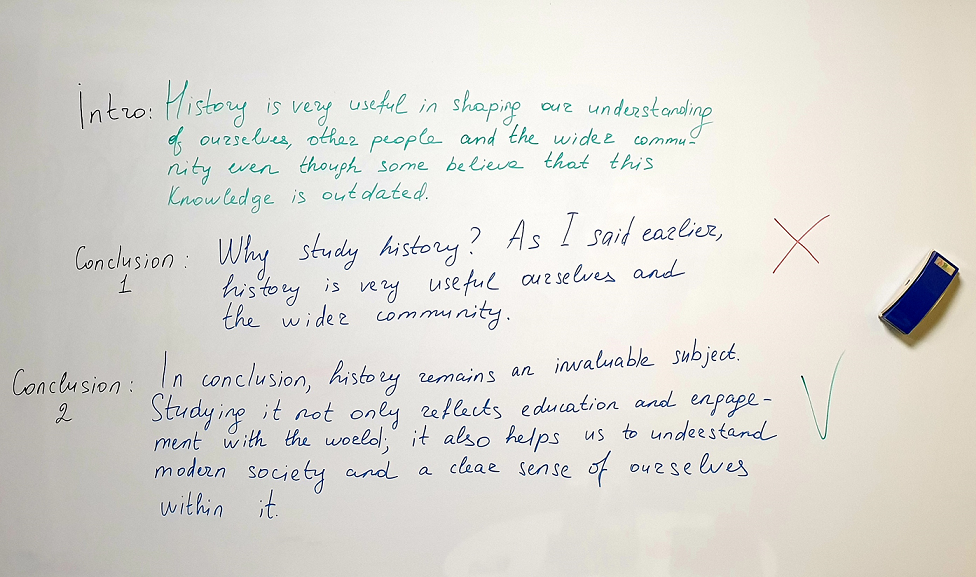 And here goes the argumentative essay conclusion example (please check the above introduction from Scribbr as a reference):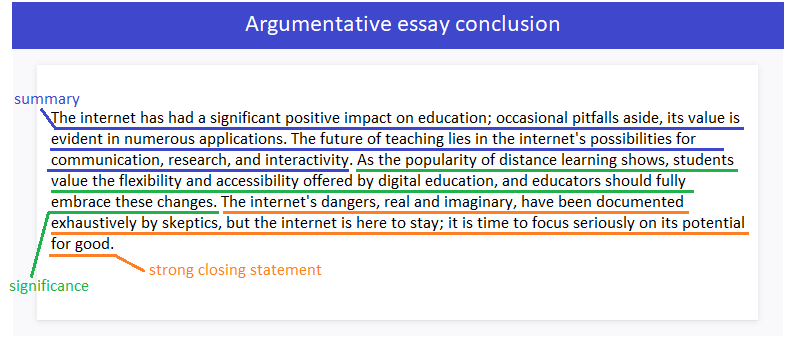 OK, and one more thing:

Types of references to choose for evidence in your argumentative essays:
Use accurate facts.
Don't ignore statistics and examples that illustrate your points.
Try definitions, explanations (how and why), and examples.
Consider narratives: stories that illustrate your issues can help create a picture in readers' minds.
It's worth using expert testimonials and interviews.
Support your points with personal experiences if you have any.
Surveys can also come in handy.
Sources like books, magazines, newspapers, journal articles, government documents, and any library resources are OK to use when writing an argumentative essay, too.
And remember about internet documents that don't fall into any of the above types of references.
Argumentative Essay Examples
We know that students look for argumentative essay examples online to understand this assignment better and visually learn how to write an argumentative essay. 
Indeed, it's better to see once than read or hear twice.
The below argumentative essay examples will help you understand the nature of this paper type better:
Frequently Asked Questions
And the last but not least, here go the answers to the most frequent questions students ask when communicating with our writers about argumentative essay. We hope they'll help you understand this essay type better and improve your writing skills for getting even higher grades on it!
What is the goal of an argumentative essay?
The goal of an argumentative essay is to persuade the reader that your claim (thesis statement) is accurate. For that, you need to use facts, data, statistics, examples, testimonials, and any other kinds of references.
What is a claim in an argumentative essay?
A claim in an essay is your thesis statement, where you represent the opinion you're going to argue. Using an essay maker can help you to come up with a strong argument and evidence for readers to believe you. It needs to be something that requires argumentation and evidence for readers to believe you.
How to write a thesis for an argumentative essay?
Choose a topic.
Turn it into a question and pick a side you're going to defend in your essay.
Summarize it in 1-2 sentences, stating an argument and explaining why you agree/disagree, and represent it in the introductory paragraph of your argumentative essay. 
Can I use "you" in an argumentative essay?
Yes, you can. Actually, it's a preferable format to use in argumentative essays because they belong to formal academic writing. Sometimes it's OK to use first-person pronouns (I, we, us) in essays, too, but make sure it's appropriate and doesn't sound self-centered or selfish. Otherwise, it will look like you're unaware or don't care about alternative opinions on the topic.
What are the features of an argumentative essay?
The main features of an argumentative essay are: (1) A researchable and debatable topic and claim, (2) Strong evidence to support the claim, (3) A definite structure to present arguments and counterarguments, (4) Persuasive writing style and tone of voice, and (5) A compelling conclusion.
What is the difference between a persuasive essay and an argumentative essay?
The core difference is that persuasive essays try to convince readers by using personal opinions and emotions. In contrast, argumentative essays need to use logic, facts, statistics, and other existing evidence for it. Plus, argumentative essays acknowledge opposing views and appeal to readers' minds. At the same time, persuasive essays appeal to emotions and may not admit any counterarguments.
Can I get help with writing an argumentative essay?
Sure, you can. It's OK to have difficulty with choosing topics or claims for your argumentative essay, as well as arguments to represent for their evidence. Teachers understand that and are open to communication, so don't hesitate to email them with questions. Your peers with good writing skills can also assist you with how to write an argumentative essay. Or, you can ask Bid4Papers writers anytime when you feel pressed for assignments and are afraid of failing the structure or missing deadlines.