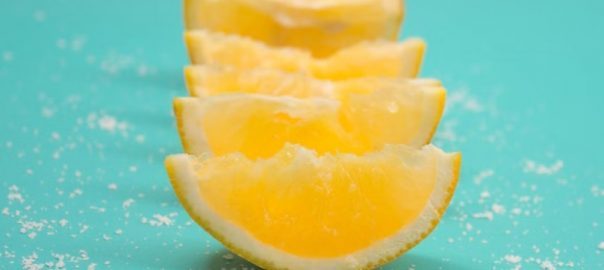 How to Write an Informative Essay Outline
Define a topic
Write down the subtopics you'll cover
Structure an essay by parts
Fill in the info on every part:
State a thesis in the introduction
Specify a subtopic and evidence for every body paragraph
Summarize everything in the conclusion
First, the question: Why do you need to know how to write an informative essay outline? Some students claim they can craft an A-worthy paper without outlining it. But you know what?
They lie.
While it's possible to write an informative essay without outlining it, such an essay will hardly appear an A-worthy one. Outlining is an essential part of the writing process, and the below guidelines on how to do it are here to help you organize this process right.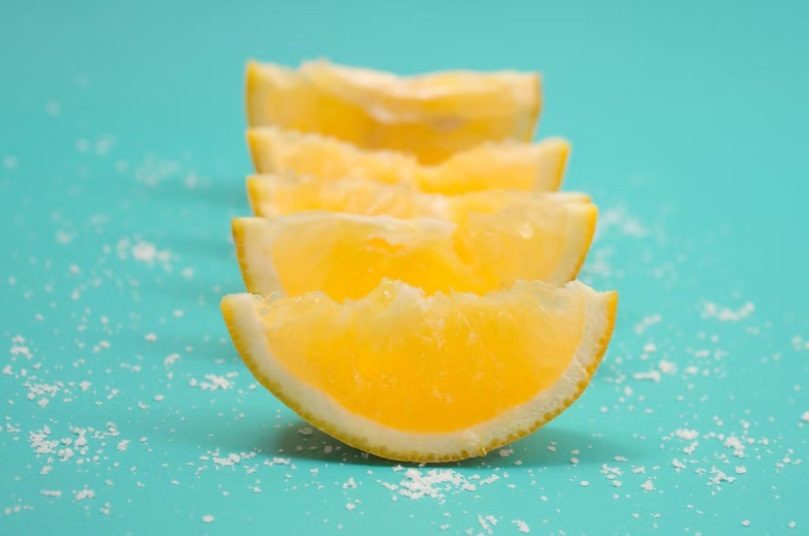 What is an Essay Outline?
It's a short plan of your essay, where you organize its main points into logical paragraphs so it would be faster and easier to write a draft.
When outlining your informative essay, you write down its topic (main idea) and structurize subtopics to understand what you'll cover in each paragraph of your future paper.
Please note that you'll need an outline regardless of whether or not your essay is informative. Whatever the type —  argumentative, synthesis, hypothesis, etc. — you'll need to craft a proper structure (outline) before writing an essay draft itself.
Why do you need an outline?
First, it helps you organize ideas and thoughts while researching as you will check tons of resources, and it will be challenging to remember where you saw a point and where to use it in an essay.
Second, it allows you to see an information flow and structurize all the points logically.
Third, it serves to help you write faster. With your essay plan at hand, you won't miss anything while writing: You'll craft each paragraph step by step, with no fear of wrong formatting or poor argumentation.
How to Write an Outline for Informative Essays
As well as any other essay type, informative ones consist of three core parts:
an introduction (one paragraph)
a body (it depends, but usually it's three paragraphs)
a conclusion (one paragraph)
Each part includes several elements you'll need to mention when writing an essay outline.
Here they go:
Introduction
It's the first paragraph of your informative essay, aimed at grabbing a reader's attention, introducing your topic, and previewing what subtopics you'll reveal in your paper. This paragraph should include three elements:
Hook — one sentence to grab attention
Background information — 2-3 sentences about your topic and its relevance
Thesis statement — one sentence about the topic issues you'll cover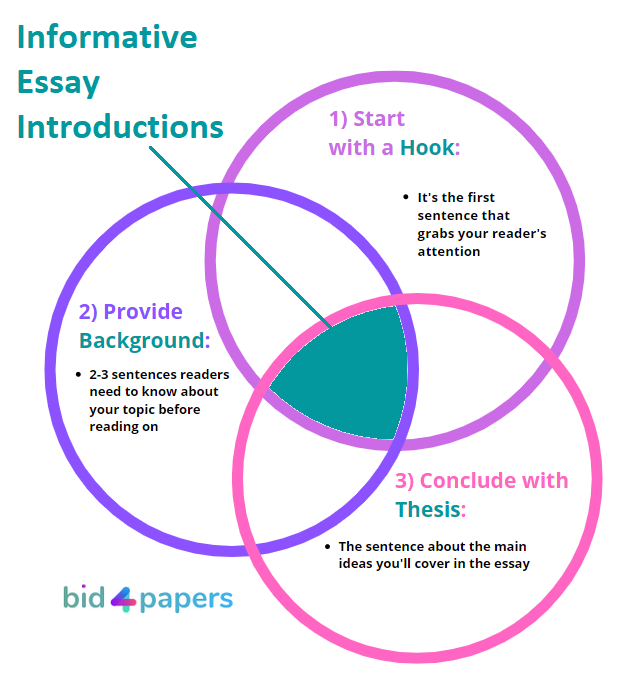 When outlining the introduction of your informative essay, remember there should be a connection between all three parts. Ensure your hook is relevant to your thesis; think logically.
Body
As a rule, informative essays are 5-paragraph ones, which means you'll have three paragraphs in your essay's body. Each of them also consists of three elements:
Claim — a topic sentence about the idea you'll present and explain in the paragraph
Evidence — data, facts, examples, and other proofs to support the claim for readers to see it's true
Explanation — how this claim relates to your thesis statement and how the evidence supports the claim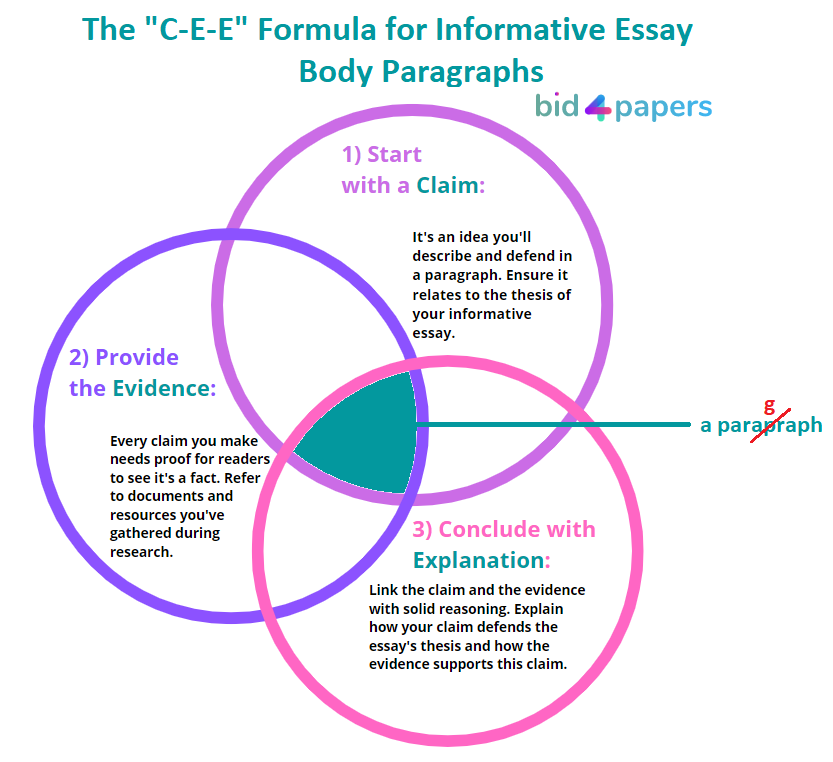 When outlining the body, place the strongest claim in the first body paragraph of your essay. Also, remember about transition words you'll use at the end of each paragraph for a smooth information flow.
Conclusion
The last paragraph of your informative essay wraps up all the claims, reminds a reader about the purpose of your paper, and provides some final thoughts on the topic.
As well as intros and body paragraphs, conclusions include three elements:
Summary — one sentence to grab all the main ideas together
Thesis restatement — 2-3 sentences relating your closing statement to the opening one
Final thoughts — your concluding remark about the topic to leave a reader with a positive impression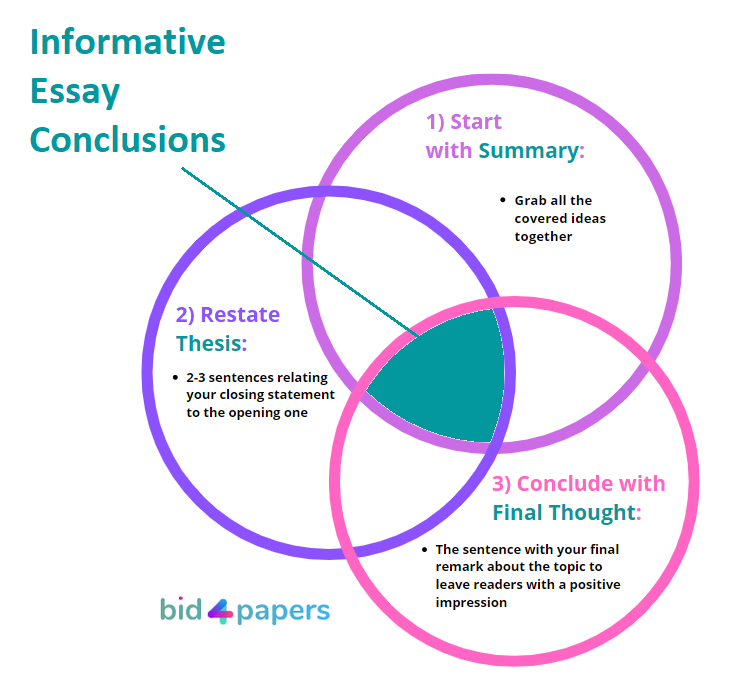 When outlining the conclusion, ensure you don't introduce any new ideas but restate those you covered in the body. Highlight the key points again, but think about how to paraphrase them with other words; don't simply copy them from the introduction of your informative essay.
Informative Essay Outline: Template
NB! Essay outlines are NOT about writing complete sentences and whole paragraphs. They are about highlighting core ideas and evidence you'll use and organizing them into logical sections for further writing.
That said, feel free to format your essay outline how it's more comfortable for you to understand what and where to mention. The only rule here:
Your outline should have a structure. It will help you see if some ideas are repetitive to avoid duplications and if some claims miss evidence and explanation to organize your essay the way it should be to grade higher.
Below you'll find a template to use for outlining informative essays. There's a list of sections for you to fill in with your topic, claims, evidence, and other notes that will help you write an essay draft: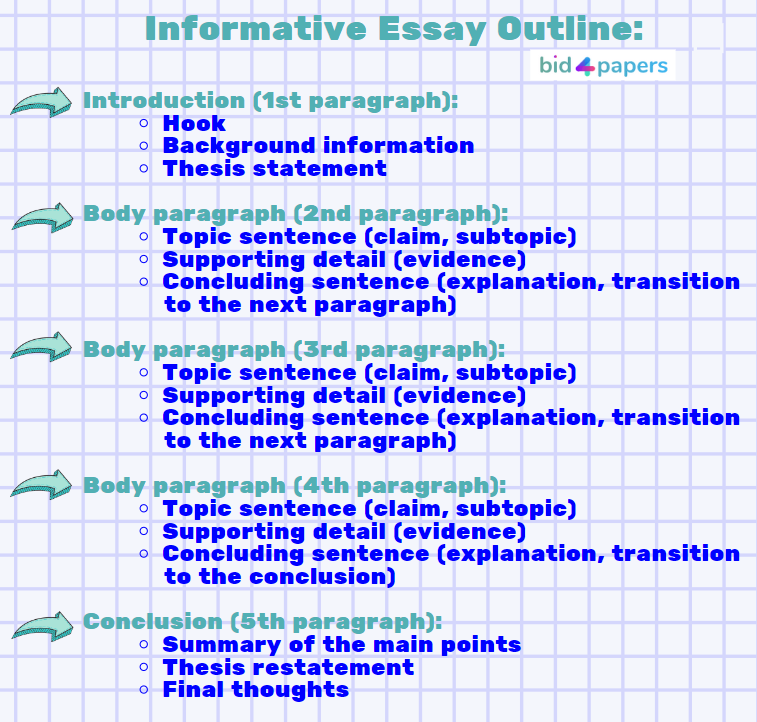 Informative Essay Outline: Example
It's better to see once than hear a hundred times, agree?
For you to better understand how to write an informative essay outline, our writers shared an example of what your outline might look if you wrote about giant pandas. Please check below and don't hesitate to ask for more details!
Example: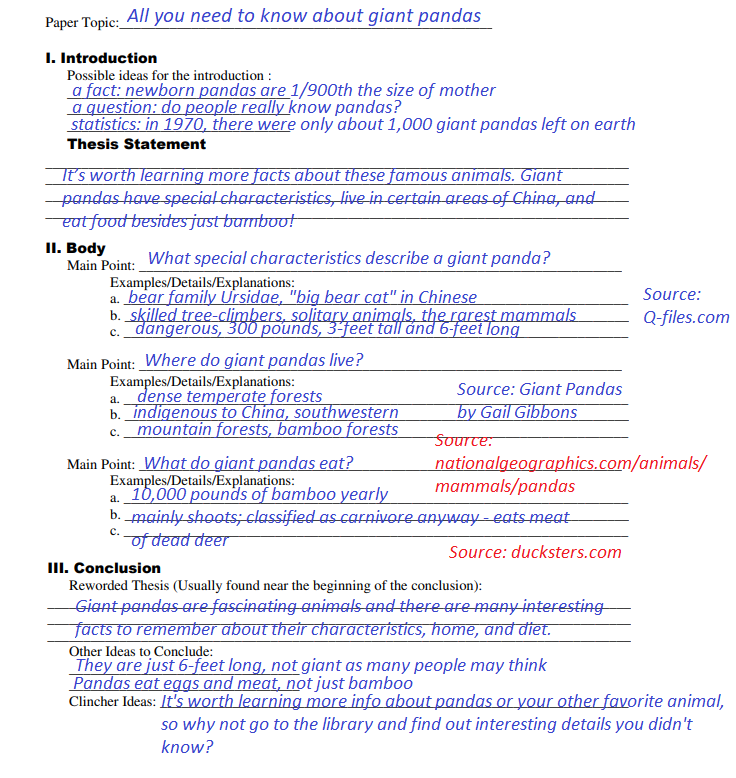 In a Word
You need an essay outline to organize the information for further writing. With a structured plan, you'll know what claims, evidence, and transitions to use in each paragraph. It's an integral part of the writing process:
You organize ideas and thoughts.
You don't miss any essay components while writing.
You get a higher grade for an informative and well-structured essay.
Seems like a plan, huh?