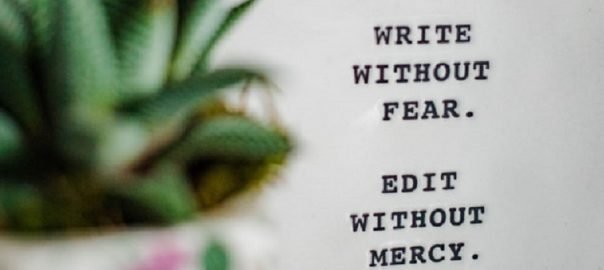 How to Write a College Essay
Here go your steps to take:
Make sure you understand its purpose.
Check a few persuasive college essay examples.
Brainstorm and pick a topic for your college essay.
Write the outline.
Start writing a college essay.
Edit and submit your college application essay.
College essays are of many types. But when looking for information on how to write a college essay, high school graduates and students mean a college application essay. It's also known as a college admission essay or a personal statement for college.
In this article, we are going to reveal the process of college essay writing, step by step. Here you will find all the necessary details on how to write a good college essay.
Ready?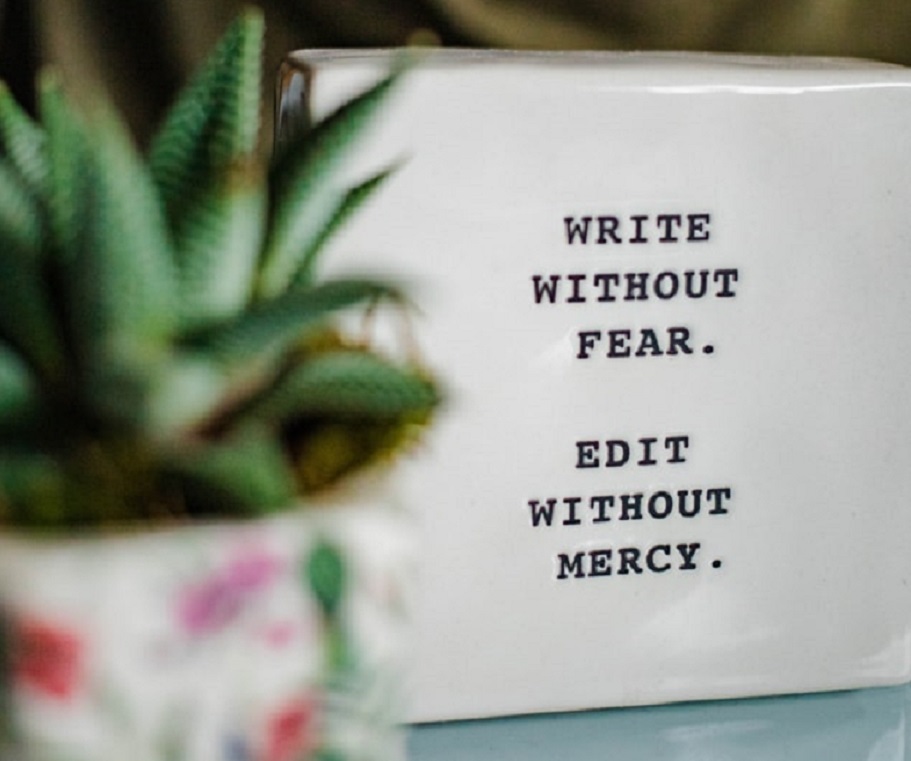 How to Write a College Admission Essay
For those wondering how to write a college application essay, there's our personal essay writing guide and the #1 rule to remember:
Despite its conversational tone, it should have a definite purpose and structure. It's your chance to introduce yourself to admissions officers, share who you are now, and make it clear for them what you will bring to their campus communities.
So before you sit and start writing, you still have a lot of work to do. Please check your steps on how to write a college essay:
Step 1: Make sure you understand its purpose
A college essay is the most significant part of your application. It tells the admissions officers about your personality and who you are beyond high grades and test scores you got in school. Before you decide on a topic of your college essay and start thinking about the facts to include, take a minute to imagine yourself a reader:
What would you think about the author if you were a college admissions officer?
What's in the essay that conveys your background to the officers?
What would you say to the admissions committee if you stood in front of them and needed to share the most important story of your life?
As admissions officers say, a college essay is a chance for applicants to share who they are and what they can bring to the campus. The purpose of your college application essay is to give officers the answers on the following questions:
Who is this person?
What will he or she contribute to our college community?
Is this person able to express thoughts in the written form? Does he or she understand how to write essays?
In college essays, applicants share their goals, challenges, influences, life experiences, and lessons they learned. In plain English, you write a kind of a narrative essay, but with a personality and learned lessons between the lines.
Step 2: Check a few persuasive college essay examples
For a better understanding of how to write a college essay, it's worth taking a look at great examples written by students. It will help to get an idea of a general tone, topics, arguments, and structure to use while writing.
Below are two great samples of college essays from the Johns Hopkins University students, Maryland. Shared by usnews.com, they inspire and provide a clear idea of what a good college essay looks like.
Sample 1:

Sample 2:

Both samples go with the comments from admissions officers on what and why they liked about those essays. Understanding that, you'll find it easier to come up with a topic (a story to tell) for your personal statement for college.
Step 3: Brainstorm and pick a topic for your college essay
Now it's time to take a seat and think about all possible topic ideas for your college essay. Admissions officers wait for you to highlight your experience and strengths, but it doesn't mean you have to focus exclusively on your past. Think of topics that would:
describe your growth as a person;
have a moment of revelation (what you've learned from the experience, and how it connects you with the personality you are now).
Don't brag but keep readers wondering, "What does he or she mean by that?" or "How is that going to turn out?"
To come up with the best topic idea for your college essay, do the following:
First, take a seat, relax, and reflect on all the events or happenings that were significant to you. Which of them could serve as persuasive examples of your strengths that could set you apart from other applicants? Please write down all the ideas that come to your mind.
Now, re-read what you've got and narrow down the options. Try to choose the top three concepts that you think could fit the college application essay best.
And finally, choose one you'd like to tell. Which of those three would describe you best? Do you have enough arguments and supporting details to develop this writing idea further and get the readers interested in your story? Stay with the topic that strikes your chord.The great option would be brainstorming and structuring your college essay, depending on what type of personal statement you'd like to share with admissions officers. Ethan Sawyer, aka College Essay Guy, specifies four types of personal statements: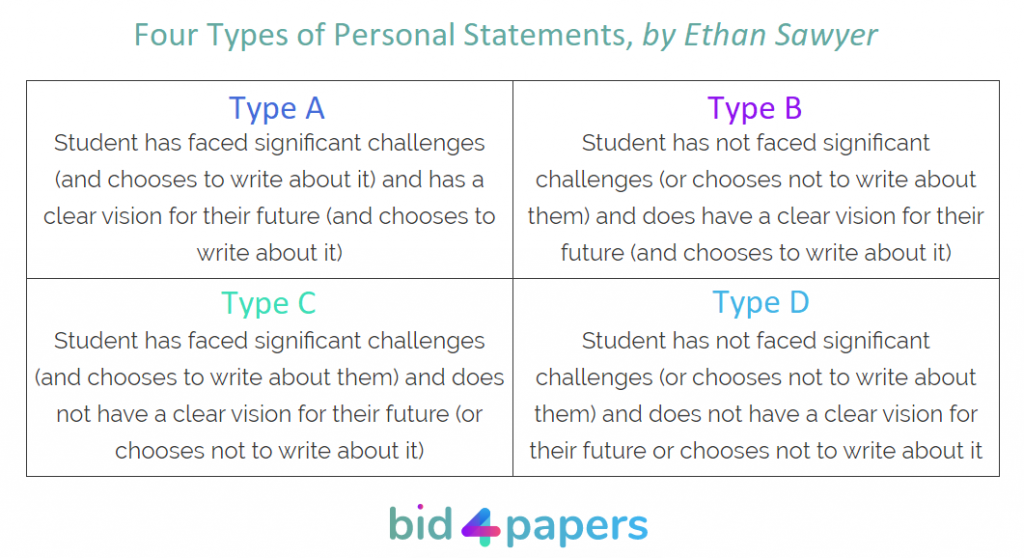 Once you decide which is your case, consider Ethan's exercises and tips on how to structure it.
Step 4: Write the outline
A college essay outline is like a map for your writing. It's a step-by-step plan of your essay, where you specify its sections and strategies you'll use to grab and hold readers' attention.
There are no strict word limits for application essays, so feel free to make it as long as you consider it necessary. On average, such college essays are about 500-650 words, so stick to this when writing an outline.
In the outline, specify the critical parts of your essay: Make sure it will have an introduction, the central part with your story itself, and a conclusion. Think of a hook you'll open your essay with, so it would make the admissions officers interested in reading. Come up with a thesis statement. And write down the takeaways you'll share in your essay conclusion.
Step 5: Start writing a college essay
So, now you know what you'll write about; and, it's time to start writing. Stick to the outline, be yourself, and use your writing style (it's your personal essay, after all!)
Keep the essay's focus: Start with the thesis (your main idea) and follow it to the end.
Be specific: Remember about the rules of good writing (say no to vague phrases, cliches, predictable word constructions, etc.; support your idea with facts, examples, quotations, and reasonings).
Be concise: Don't write fifty words where five are enough; share only the information that is necessary for your story to flow.
Don't be afraid to sound vulnerable: Write about how the described event or experience made you feel, how it changed you, and whether it had an impact on your values. Do your best to hold a reader's attention throughout the essay: If it makes sense within the context, create a story twist, reveal something unexpected so that a reader would say, "Wow!"
Tips: Don't spell out the point of your essay right off the bat. Avoid writing something like, "And that was the moment when I realized" or "The most important lesson for me was…" Structure your story so that admissions officers could read between the lines.
Step 6: Edit and submit your college application essay
As far as you remember, not only admissions officers learn about your personality but also check your writing skills when reading your college essay. So, once you've finished writing, give yourself some time—and proofread and edit your work before submission.

Make sure your college essay shows rather than tells. Check if you've shared examples that support your statements and make your writing more interesting to read.
Check the essay for consistency. Do you use the same tense throughout the article? Do you refer to a particular college? And what about your writing style and tone of voice you use?
Proofread your essay. Make sure to avoid the most common grammar and spelling mistakes. Ask someone to read your essay and help you notice weak points, but don't allow them to change the overall tone of your work. Professional essay writers and editors can help you here.
Once ready, submit a college essay along with the rest of your application. Good luck! 🙂