The Ultimate List of Linking Words for Your Essay
Linking words are lexical items (words and phrases) we use to connect ideas in writing and get a reader to our next sentence or paragraph.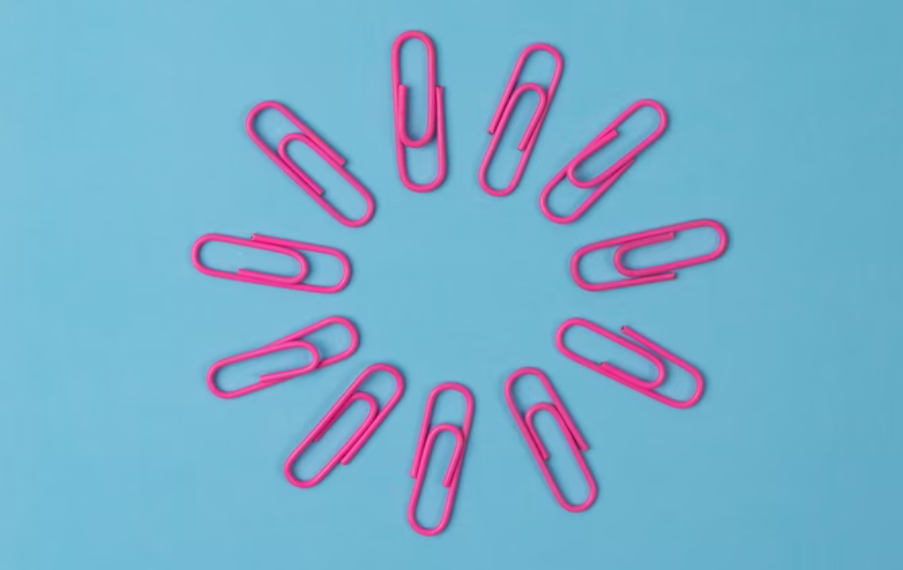 Let's face it: You can't write an essay (or any other writing piece) without linking words.
Also known as connecting words or transition words, they serve to make your writing flow and help those reading your work follow the flow of your thoughts, ideas, and arguments.
This post is your guide to linking words and their role in writing. Not only will you learn the types of these words, examples, and reasons to use them, but you'll also get a massive list of transition words and phrases as well as linking words PDF to download and use whenever necessary.
What are Linking Words?
Linking words are lexical items (words and phrases) we use to connect ideas in writing and get a reader to the next sentence or paragraph.
They aren't about essay writing only:
Whether you write a fiction book, marketing content, academic works, autobiography, or poems, you'll need to connect ideas. That's what transition words do:
They link your thoughts and arguments into a chain to show how they relate to each other. Also known as transition words, these phrases often start a sentence or a paragraph. However, you'll also use them in the middle of sentences to bring ideas together.
The most common places for linking words in essays are:
the start of a paragraph
the start of a sentence introducing a new idea or extending an argument 
the beginning of a concluding statement
Why Use Transition Words in Essays
Essay linking words is an integral part of academic writing. Put it simply, you can't write a paper without using them; otherwise, your writing won't make any sense for readers.
Transition words for essay serve to:
connect ideas in writing
create a flow of thoughts and arguments for readers to understand what you want to say
guide readers from one idea to another, demonstrating how they relate to each other
hook readers and encourage them to read the next sentence or paragraph
add more information
support or contrast a point
show the result, conclude, demonstrate an effect of this or that point
Using essay maker and connecting words, each sentence and paragraph must pass readers on to the next one. These connecting words serve as an instrument to guide readers from one thought or point to the next.
Linking Words Examples
Linking words examples are many, and it's clear why: every piece of writing contains tons of connecting and transition words. Let's take an essay sample from Bid4Papers writers to see the example of linking words in academic writing: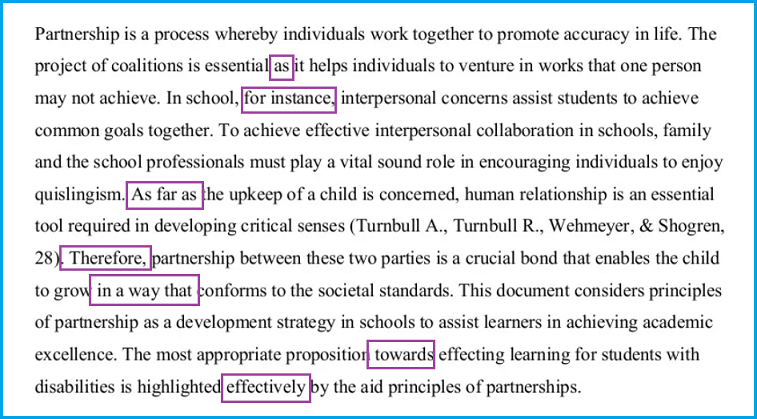 This one was an essay introduction. 
Now, why not take a step further and look for essay linking words in essay conclusions?

Types and List of Linking Words to Use in Essays
Below you'll find the ultimate list of transition words for essays by categories. Choose the role you need a word to play (reason, contrast, emphasis, restatement, etc.) and consider the corresponding table of transitions.
If you need the whole transition words list in one place, jump to the next category of this post to find the downloadable linking words pdf.
And now, for connecting words categories:
Addition/Agreement/Similarity
These words serve to add info to what you've previously stated, demonstrate the commonality between arguments, and support your thoughts.
in the first place

again

moreover

in like manner

also

of course

in the same fashion/way

identically

correspondingly

not to mention

additionally

just as… so too

apart from this

last

not only … but also

to

as well as

in addition

then

likewise

first, second, third

uniquely

similarly

to say nothing of

too

along with

further

moreover

as a matter of fact

and

together with

coupled with

equally

comparatively

in the light of

like

furthermore

as

by the same token

besides

coupled with

not to mention
Contrast/Contradiction/Limitation/Opposition
Linking words for contrast is your instrument to show how things are different and provide counterarguments. They work best in persuasive and critical essays.
however

nevertheless

nonetheless

in contrast/in comparison

while

whereas

conversely

differing from

even so

although this may be true

otherwise

albeit

besides

be that as it may

still

although / even though

though

on the other hand

on the contrary

alternatively

in opposition

instead

nor

different from

at the same time

even though

then again

regardless

but

yet

despite / in spite of

as opposed to

contrarily

contrary to

rather

though

unlike

of course …, but

albeit

above all

in reality

after all
Comparison/Concession/Condition
These lexical items will help you if you need to provide conditions to your statements, show how things are different/similar, or accept a point with reservation.
similarly

likewise

also

compare(d) to / with

not only…but also

alike

equally

in a similar manner

in common

still another

although this may be true

as

on the condition that

only if

admittedly

all the same

even though

however

despite

like

just as

just like

as with

both

by the same token

in like manner

in the same way

because of

even if

given that

since

then

unless

although

and still

and yet

nevertheless

nonetheless

similar to

same as

compare

correspondingly

either

equal

most important

resembles

similarly

granted that

if

in that case

when

whenever

while

be that as it may

even if

even so

up to a point
Clarification
These words will help you with personal or narrative essays: They are linking words in opinion writing that indicates you're going to explore ideas in more detail.
Expository essays will win with these words too.
I mean

in explanation

in lay terms

to clearly define

to explain

in other words

in simple terms

simply put

to put it clearly

to put it in another way

simply stated

that is to say

to break it down

to simplify

to make plain
Cause/Effect/Result
Cause and effect connecting words do what their name says exactly: demonstrating a cause of some point and providing the result of what has been done or started.
if

in case

granted (that) … then

for the purpose of

when

so that

in the hope that

while

due to

in view of

while

lest

hence

provided that

as/so long as

unless

with this intention

whenever

so as to

to the end that

for fear that

because of

so

as a result

as a consequence (of)

for this reason

thereupon

given that

on (the) condition (that)

only/even if

with this in mind

since

owing to

inasmuch as

in order to

as seeing / being that

therefore

thus

consequently

forthwith

then
Emphasis/Example
These words are for putting forward your point more forcefully, providing examples.
undoubtedly

indeed

obviously

for instance

that is (i.e.)

such as

chiefly

clearly

definitely

it should be noted

naturally

never

to repeat

on the negative side

significantly

on the positives side

to enumerate

another key point

first thing to remember

to emphasize

to put it another way

truly

generally

admittedly

in fact

including

namely

specifically

especially

even

importantly

obviously

of course

particularly / in particular

truly

with this in mind

point often overlooked

frequently

to explain

by all means

surely

in this case

to demonstrate

for this reason

particularly / in particular

especially

for example

to illustrate

above all

absolutely

in detail

in truth

indeed

positively

surprisingly

to clarify

with attention

without a doubt

specifically

most compelling evidence

expressively

that is to say

with attention to

certainly

for one thing

as an illustration

to be sure
Generalization
Perfect transition words for hypothesis essays, generalization lexical items serve to make a general statement you'll then specify and prove in detail.
as a rule

broadly speaking

commonly

mostly

normally

often

for the most part

generally speaking

in general/ generally

predominately

regularly

typically

in most cases

mainly

more often than not

on the whole

overall
Illustration
These words and phrases are for you to provide examples in essays.
as an example of

for example/ for instance

for one thing

like

namely

on this occasion

illustrated by

in another case

in the case of

proof of this

specifically

such as

in this case

in this situation

including

to demonstrate

to clarify

to simplify
Location/Place/Space
Use these words to provide order and reference or clarify spatial relationships between your points or ideas.
in the middle

here

further

on this side

where

wherever

in the foreground

near

alongside

down

beneath

adjacent to

underneath

around

to the left/right

there

beyond

in the distance

from

around

in the background

above

up

beside

opposite to

under

surrounding

at the rear

in front of

next

nearby

here and there

over

before

in the center of

below

among

behind

between

across

on top/on bottom

adjacent
Reason/Reference
These transitional words will help you demonstrate relationships between ideas and provide reasons for what and why has started or occurred.
because of

for the purpose of

given that

seeing that

so that

with this in mind

as applied to

as far as

concerning

the fact that

granted that

in fact

in order to

with this intention

with this purpose

for

considering

in connection to

in terms

with regards to

in view of

owing to

provided that

because

since

as

regarding

speaking about/of

with respect to

examples of these might be:
Time/Sequence
Use these words in your essay when you need to indicate the time and order of what you say.
at the present time

after

henceforth

at the same time

until

meanwhile

in due time

then

first, second

as long as

forthwith

in the meantime

by the time

in the first place

next

formerly

instantly

quickly

from time to time

later

whenever

up to the present time

till

further

until now

before

in time

when

straight away

in a moment

whenever

all of a sudden

now

suddenly

presently

finally

sooner or later

last

eventually

to begin with

since

during

as soon as

hence

prior to

once

without delay

about

at this instant

now that

immediately

shortly

occasionally

another
Summary/Conclusion/Restatement
Restatement words will help you express an alternative to what you previously stated. They work for all essay types, including rhetorical precis and dialectic essays.
Use summary and conclusion transitional phrases to sum up your points and come up with the final paragraph of your writing.
as can be seen

after all

overall

all things considered

in conclusion

by and large

given these points

in essence

in any event

for the most part

altogether

as noted

therefore

generally speaking

in fact

ordinarily

as shown above

in short

to sum up

as has been noted

to summarize

in either case

in the end

as you can see

to conclude

in the final analysis

in summary

usually

in the long run

in brief

on the whole

in a word

on balance

all in all

in the final analysis

finally

given these points

ultimately
The Ultimate List of Connecting Words: Download
And now, for the most interesting and practical part:
Below you can find the linking words worksheet that gathers all the most commonly used transitional words in essays. Feel free to download this linking words PDF and refer to it every time you write an essay and experience writer's block: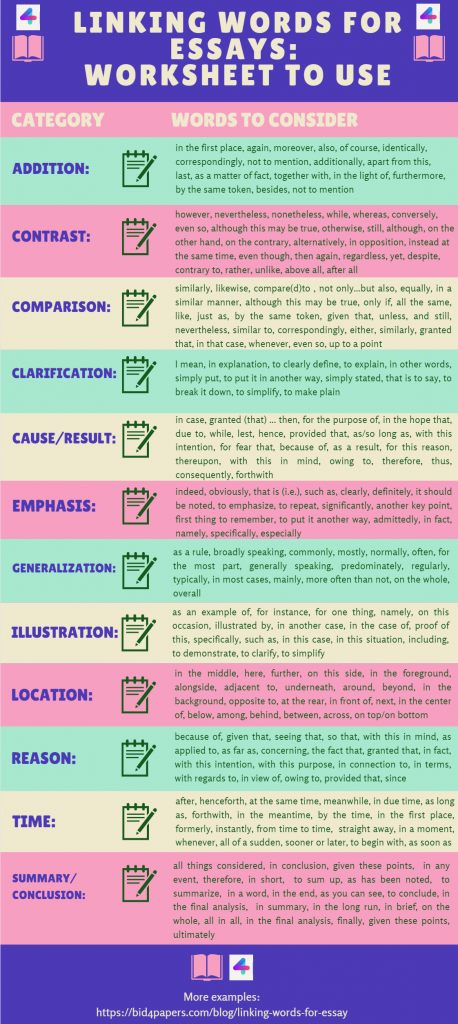 [Download PDF]
Do you need more guides and worksheets like this to assist you with academic writing? Please share your ideas in the comments, and our writers will be happy to help!